macrumors newbie
Original poster
If it's true that the VRM mod allows you to sustain higher wattage (and thus performance), it would be interesting to collect data points. Namely, the maximum combined power draw that one can sustain during a heavy, mixed load that asks for 45W+ from both each of the CPU and GPU.
Unmodded as well as post-VRM-mod results would be useful for comparison, please post either. Results from my machine are below.
I have performed several iterations of the VRM thermal pad mod. The first started with only partial contact to the black thermal insulation tape of the bottom case, and the most recent one has up to four layers of pads for better contact with the bare (tape-stripped) bottom case.
Test: Test duration is 3.8 minutes
Test thoughts: Machine is prewarmed. This test run and resulting data, though short, is a good representation of the usual throttling I see when gaming.
Machine: 2020 Macbook Pro 16, i9 2.3GHz, 5600M, 32GB RAM
Hardware setup: Clamshell, resting on a laptop cooler with a fan (pushes air up to bottom of case)
Software setup: Bootcamp, CS GO [I used CS GO because it starts out drawing 45W GPU and 40W+ CPU from cold start before throttling]
Ambient temps: Lowest at 31C on battery sensor 1
Mod info: Fujipoly 17W/mK 1.5mm and .5mm. Only padded VRM parts, and not CPU or GPU. Bought a second bottom case on
eBay
for $80 to preserve warranty after removing tape.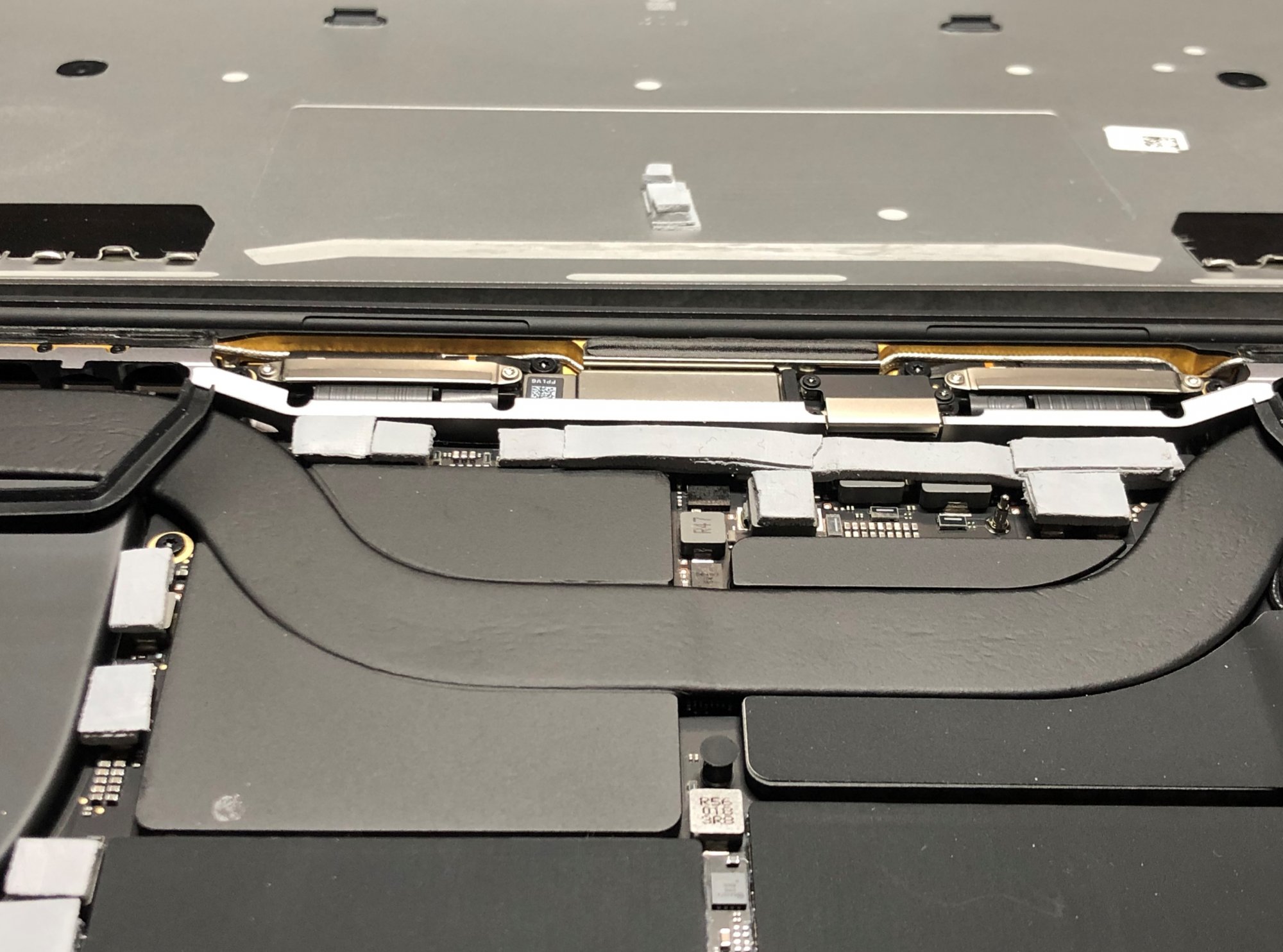 Conditions: Machine warmed up until power draw throttling seesaw occurs, which is after 10 minutes watching a CS GO replay at 5K res + highish settings. Then, machine is idled for a few minutes to configure and set up logging, and tabbed back to the game for full active load for the start of the log data.
Software: Not running any modifications like QuickCPU etc.
Logging software: XTU, GPU-Z, (Afterburner- data not used)
Result
----
Averages taken from ~229 one-second-interval data points (229 seconds = 3.8 minutes)
Average CPU draw (W): 18.45946378
Average GPU draw (W): 45.71491228
Combined average CPU+GPU draw (W): 64.17437606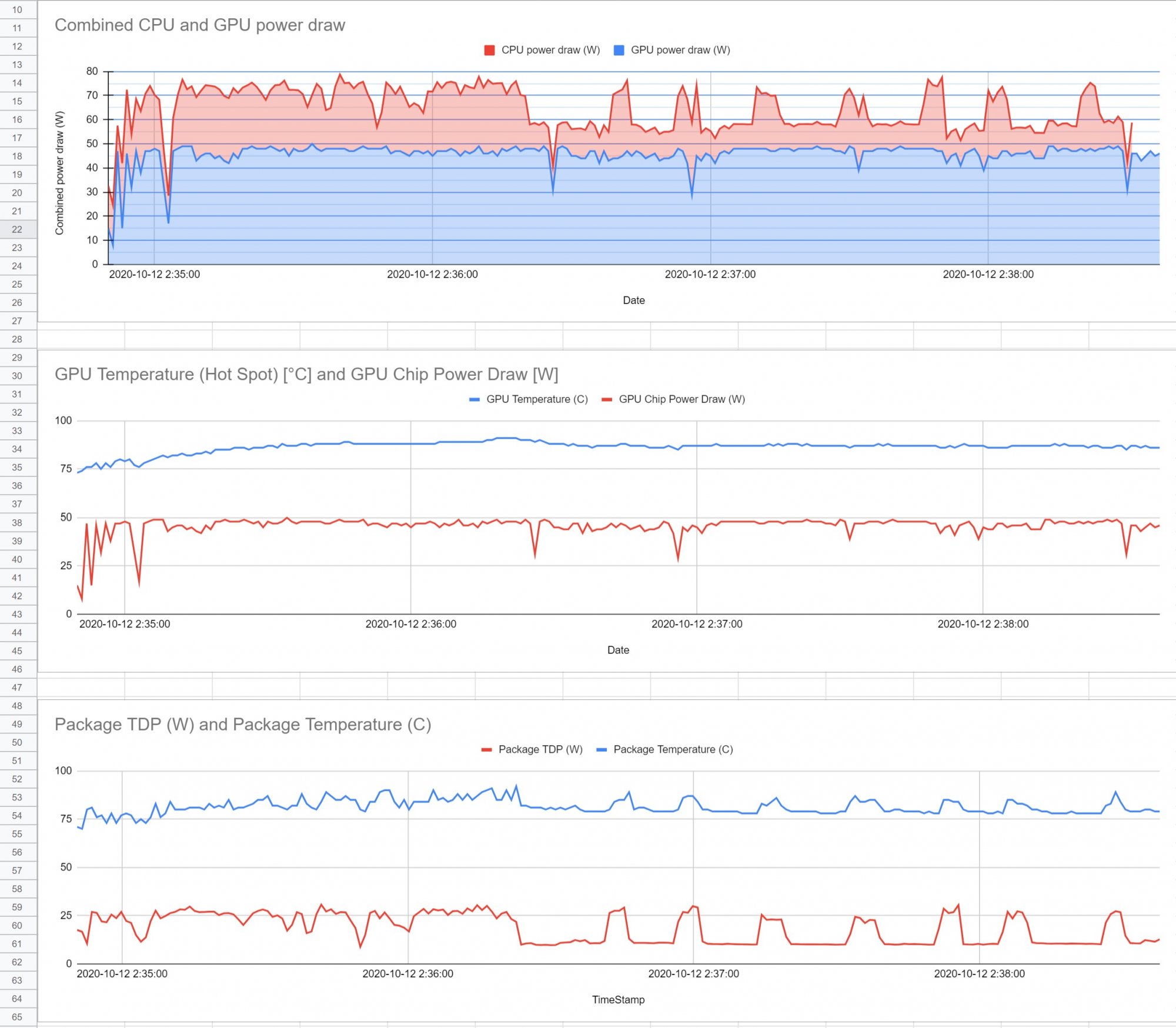 Analysis
----
- During the throttled period, combined power draw is around 57-58W. The up periods seem to average around 70W.
- Up periods last 4-6 seconds, down periods are 8-16 seconds.
Thoughts
----
Even with my best attempts to perform the mod, this machine still experiences throttling such that it is unable to sustain 70W. In CS GO (at 5K), this means dipping to an unacceptable 50 fps at 58W versus the 60+ fps at 70W. While I believe there is an improvement in performance (more on this later), this mod is not sufficient to sustain 70W+. As 70W seems to be the stable point where the GPU maxes its load at 45W and the CPU boosts to an acceptable 4GHz+ at 25-35W, this mod by itself is not a definitive solution to fixing performance throttling.
If you believe me when I say I can run games at higher settings stably where I was unable to before, and considering that the combined average draw is now at ~64W versus the 57W (IIRC) max that I was limited to before, then there is still a decent improvement to be had with this mod.
How to test
----
There are two ways, the easiest is to install MSI Afterburner [1] and enable on-screen display to show CPU and GPU temps and watts [2]. The other is to use Intel XTU and GPU-Z file logging but this is involved and requires data massaging and Excel.
[1]
https://www.msi.com/page/afterburner
[2] Seems like a decent tutorial
Please post your sustained combined power draw below so you can determine the max performance achievable by your Macbook!
Last edited: