macrumors 6502a
Original poster
So I get a text from a friend tonight informing me his screen in his iPhone 3GS just popped out. I'm thinking yeah right, you mean you broke it. He brings his phone over and the top of the screen is in fact popping out of the case. Separated from the back. Kicking myself for not talking pictures of that. I take the screen out just thinking it has to be reseated and see that the logic board is bulging and is bent up. At this point I'm all like WTF mate? I take one screw out of the logic board to remove it, it rips two others out and pretty much flies out. This was reveled: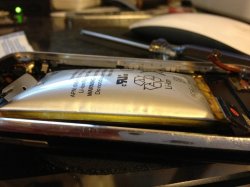 WTF!
I take it outside as it gets larger, use pliers grab it by the plastic tab and rip it off of the back... and then put it in my hand and take a pic of it.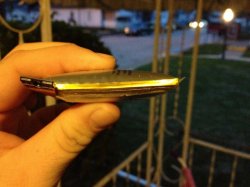 I have NO idea how this happened. I say it was stepped on and cracked the battery, he swears that nothing happened.
Either way, battery could have gone boom.