macrumors newbie
Original poster
Dear All,
I have a question concerning 4K video playback.
I've upgraded my 2008 Mac Pro 3.1. to following setup and think, that 4K video should play smoothly, but no, it is laggy and stuttering.
Specs:
OS: Catalina 10.15.12
Device: Mac Pro Early 2008
Processor: 2 x 2,8 GHz Quad Core Intel Xeon
RAM: 28 GT
Startup Disk: SSD
GPU: AMD Radeon R9 280x, 3 GT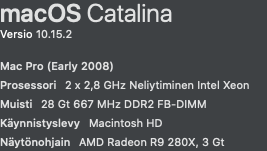 Could anyone tell me, if it is possible to get 4K to run smoothly? On Youtube etc. I am able to Stream in 4K.
I have an external acer 4K-monitor that currently just runs at 30hz. Anybody having an Idea, how to get it run on 60hz (the Monitor is Supporting 60hz).
Best
Mika