macrumors 6502
Original poster
Hey guys,
I have already been through 6 iPad Airs and ALL of them had flaws: one had two stuck pixels (green) and dust between the glass and the screen (yes, I know that now they are glued together - so the dust particles were trapped in the production process), the other iPad had dead pixels, the third one had around 20-25 dust particles in the centre of the screen etc. Unbelievable? Am I too picky? Use a flashlight and shine some light on the screen (with the iPad turned on) and I am sure you will see some dust particles. Some of them are visible on the white background.
Today, I have received two iPads Air 2 from Apple as a replacement and guess what. One of them had a perfect screen in terms of dust: I could not find even one dust particle - it is the first iPad without any dust. I was planning to keep this one but have discovered a dead pixel and loose volume buttons. Yes, the buttons are really loose: I have already been through 4 other iPads and ALL of them have perfectly sturdy buttons. The second iPad had - guess what - more than 3 dust particles and some of them are visible.
I cannot believe it. Guys, is the QC of Apple that bad nowadays? Or am I asking for too much? Cannot I just have an iPad with a screen that does not have any dust trapped between it and the glass and without any scratches/loose buttons etc.? Man oh man...
Update
- photos of one of such particles of dust:
(made using a flashlight)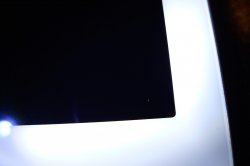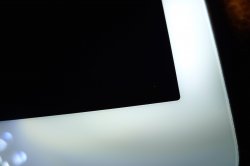 Last edited: