So I'm getting this message when using a fixed DHCP .10 IP address for my iMac.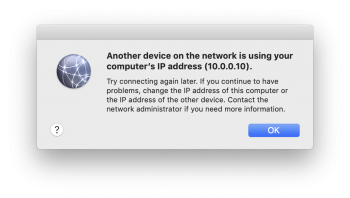 1. It's simple, right, just make sure that the DHCP server on the network doesn't step on the address? Well it isn't, as the DHCP servers' starting address is .100. The only devices < 100 are those to which I have assigned fixed addresses (.01,.05,.20, .30).
2. So somehow someone else is getting the address then. I do a network scan from my iPhone. It only shows my iMac at that address. I look at my DHCP router. It shows my iMac - with the name iMac-2, at that .10 address. It is if my iMac is stepping on itself, seeing it's own address as a conflict.
3. Other devices with fixed IP addresses < 100 have no problems.
4. The message goes away, of course, if I set the iMac up to use DHCP. But in contrast to other devices on the network, such as NASes, which retain their DHCP served address for weeks, the iMac keeps getting a new address every few hours when continuously powered on.. This causes chaos with things like Plex servers.
So I am at a loss as to where to look ...