macrumors 68000
Original poster
So I bought a base model rMBP with the 2.3Ghz processor back in June 2012.
Upon getting it and hearing people talk about the LG vs Samsung displays, I checked mine. It was an LG display. However, the display looks fine to me and had no issues so I didn't bother exchanging like many others did.
Around October, I started having image retention issues and I mean bad image retention, not the slight kind you have to test and look really hard for. I had to wait until December to get it fixed since I'm a full time student and needed my MacBook daily.
December rolled around and Apple replaced my display with a Samsung display. This time the Samsung display had no image retention issues (I tested). However, it had several LCD mura's (white spots) on the screen that were also very noticeable. I yet again was forced to wait until May for my school semester to end to have it repaired.
At the beginning of this month, I sent it in a 2nd time for repair, when I received it back the display was noticeably discolored. I don't mean slightly yellow, I mean very yellow. I was getting annoyed at this point because I paid over $2,000 for a computer with emphasis on the display, yet all my issues stemmed from the display.
For a 3rd time I sent it in for repair. Apple was able to replicate the issue so obviously it wasn't just "needed to dry" or a bad color calibration like most people told me. They replaced the display again.
I got it back, and this display was worse than the previous. Here it is next to my iMac.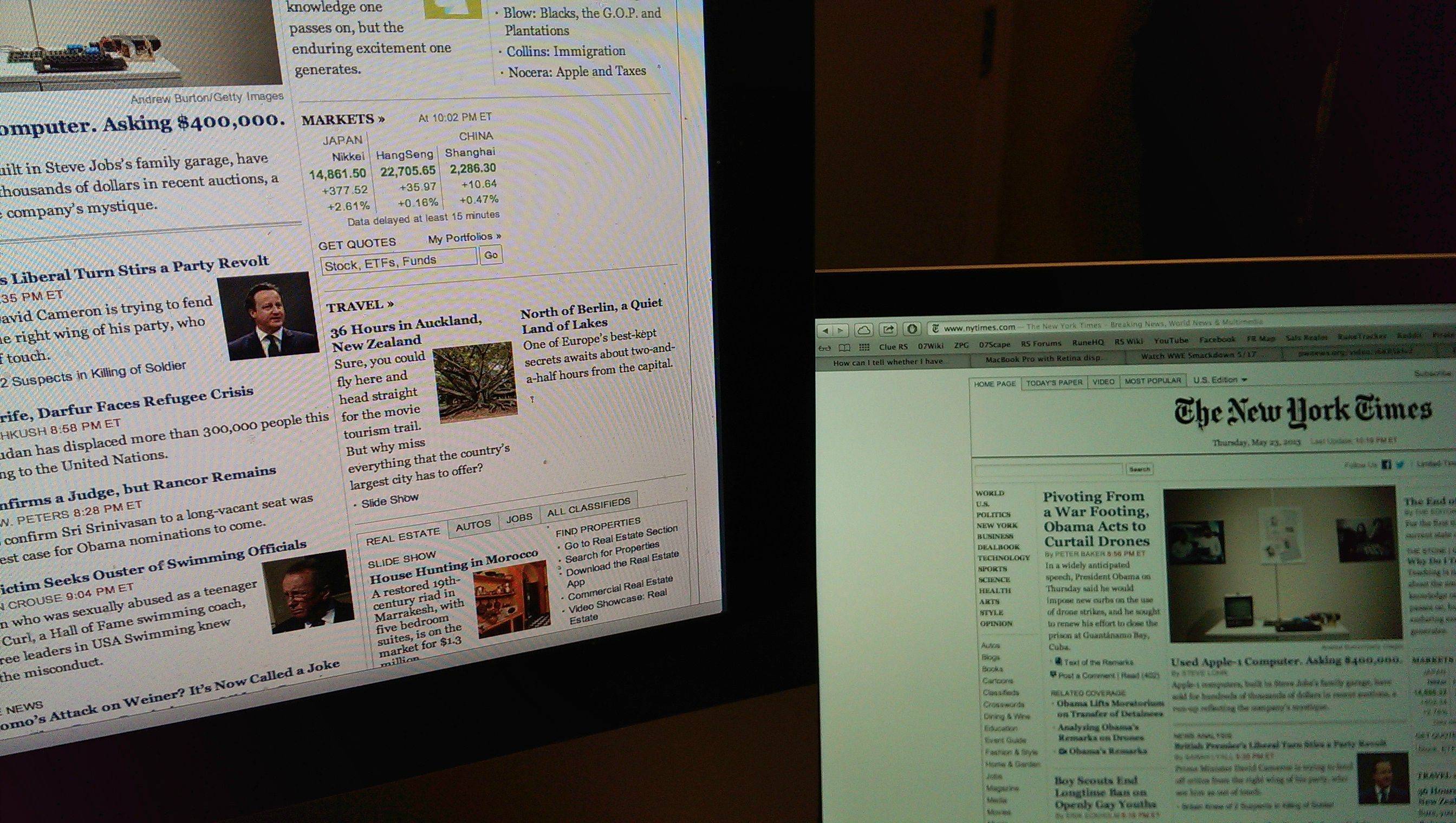 After 3 repairs I was tired of this. My warranty was almost up as well. This time I contacted Apple Customer Relations, and after about 2 weeks of different processes and approvals the Senior Advisor needed to do, I just received a brand new rMBP. I also got the spec bump model (2.4 vs 2.3)
When my iPhone 4S lock button randomly stopped working, they overnighted me a new phone. I've only had 1 issue with my iPad, and they also replaced that with no issue or hassle.
The fact that they use overnight shipping on all their repairs make them so much more seamless than any other company I've dealt with.
All and all, I am very happy and this is one of the things I love best about Apple. I actually use an HTC One for a phone, but Apple definitely has the best customer support of
any
company in my opinion.