macrumors 68040
Original poster
I received my AT&T Bill today and found subscription charges that I did not sign up for.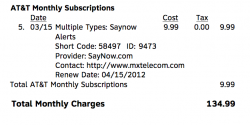 I called AT&T and they admitted they knew about the problem. But didn't have a way to stop it from happening. They can remove the subscriptions and credit your account. But that is about it.
I had to talk to a supervisor to get my bill credited for the charges.
So for anyone on AT&T you might want to take a closer look at your AT&T bill. I have my account pretty damn secure and don't use my number for anything that would seem suspicious.