I'm seriously thinking about ditching sprint. Horrendous data speeds and no signal in my home are killing me.
What I know is AT&T has good 4G here in Stuart FL. VZW has LTE. I've used AT&T's 4G and its plenty fast for my needs so LTE isn't a must. I will be using a share plan with 4 phones and will probably use the 4 or 6gb plan.
Is it worth the extra money for LTE with VZW? How does the customer service compare? Does AT&T still drop calls?
I travel to Orlando often, how are the networks there? All input and advice is appreciated!
Here's the speeds with sprint in my office.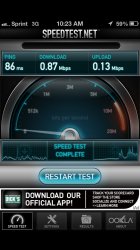 I've seen 4-6 down with AT&T 4G. Big difference lol