See 2020.03.07 entry for Coronavirus update.
In an old previous post
https://forums.macrumors.com/thread...he-1-billion-milestone.1661971/#post-18315982
the Macrumors Folding at Home team had donated over 1 billion points to the Folding at Home medical research effort. This is also a great tool to help evaluate how your system responds with high loads, as it will max out all of your cpus at 99% while it is running.
The FAQ is rather old (IOS 9), but gives some additional information, such as the MacRumors team number (3446).
Here is an updated link to the Stanford website:
https://foldingathome.org

and a screen shot from the Folding at Home web client: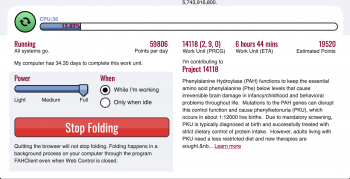 Although your cpu utilization will be ~99% while it is running, the priority (nice) level is low (19) and you may not notice it with most applications. The Safari nice level, for example, is 0 (lower has higher priority). For heavy CPU bound applications it is simple enough to go to the Web site and temporarily suspend folding.

The only
downside, other than maybe temporarily having to suspend folding, or possibly system slowness on older systems, is that there is the extra electricity cost when fully engaging all of your cpus. When folding my system runs at 441 watts with all 18 cpus (36 virtual) fully engaged. Power consumption drops to ~346 watts with it turned off, so I am using an extra 105 watts of power an hour. That's ~920 KW hours which with the expensive electricity where I live (~$.20 per KW/h) costs about $183.96 a year. For most people with fewer cpus and less expensive electricity the cost would be much less.
It's nice to help make the world a better place during these dark times.
Last edited: