So I don't know if this has been here for a while and I just now noticed the HDR box in display settings but I have been out from my office for a bit. I came back in today to do some work and noticed the text and font on my computer were just .. "off" for lack of better words.
So my setup on this computer is a 2018 Mac Mini 6core 32GB RAM, 10.15.4 beta (19E250c), Vega64 Water-cooled eGPU, 4K BenQ HDR 32" Monitor connected via Displayport.
Either way back to what I was mentioning, the text appeared very faint, quite difficult to read, especially on Remote Desktop. I use the Microsoft Remote Desktop app to connect to our servers when needed, used this for YEARS but back to the HDR issue.
I had never noticed an HDR option in macOS previously. I typically use one of the 2 iMac's mostly and they are always fairly consistent in how they look so I don't normally go looking for display settings in them. But back in the office today connecting in to one of my servers and I thought, Damn I need to get my eyes checked or something is "off" here.
Connected to another server, same issue.
Opened display settings and saw the HDR setting.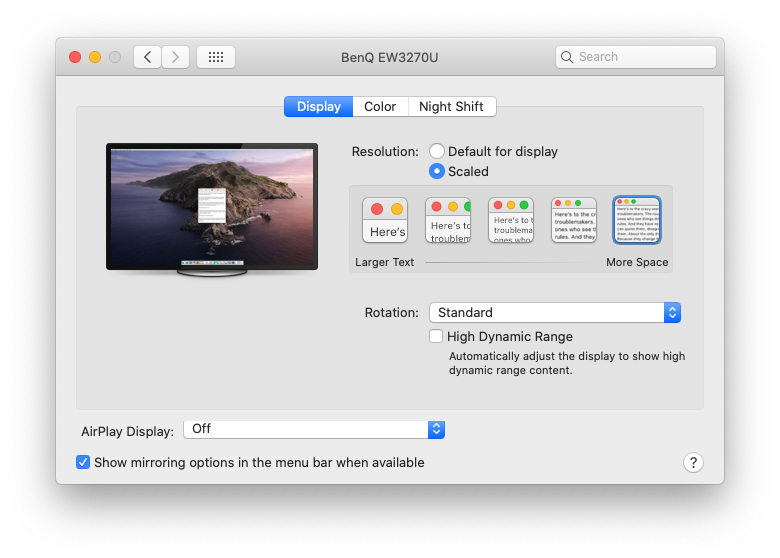 Which was checked automatically so I thought "no that couldn't be it, HDR improves visuals".
I unchecked the box and all of my fonts dramatically got better.
Better contrast, just overall better and easier to read.
Does anyone else have this and their experience with it?
I have 2 other systems with HDR 4K monitors and my wife's monitor I believe is HDR and will check that one later when I get home.
I was just curious if others have experienced this, if it may be the monitor, the HDR implementation, just trying to narrow it down.