macrumors 6502a
Original poster
I received my iPhone 5 on Wednesday and just used it as a new phone for a couple of days so that I could get it unlocked and then restore as new in iTunes to confirm the unlock (which was successful btw).
Anyway, so I just got around to restoring from my 4S iCloud backup yesterday evening. All went according to plan and I made quite a few changes deleting apps and installing new apps and rearranging things etc. So when I went to bed I wanted to backup to iCloud to get all my new changes saved.
I woke up this morning to some sort of message about my phone not backing up because I do not have enough space in iCloud. My backup is only about 3 GB total so I very confused.
I always just assumed that iCloud continually "writes" (physical hard drive type term for lack of a better word) over itself with each new save. Is that not the case when going to a new device/model? Looking at my iCloud settings it looks like it's separating out "space" for my 4S and "space" for my 5 in the cloud, which leaves me without enough free space to backup my 5.
This is what I show: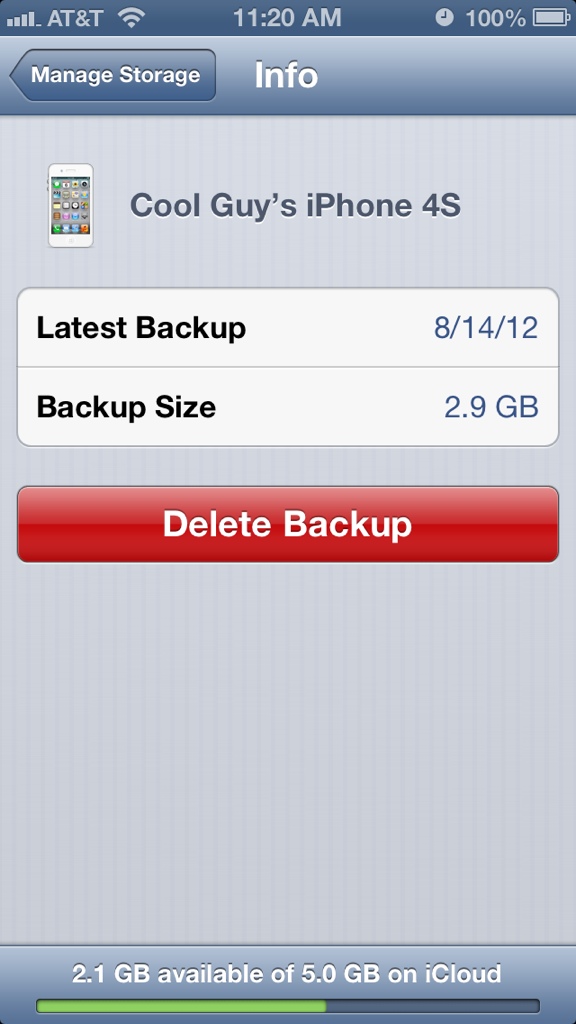 So, I just want to make sure I understand this correctly. Since my phone is RIGHT NOW exactly how I want it (and does contain all my 4S data, obviously), can I just delete the 4S backup from iCloud, then just backup my phone and go forward like that?
Conversely, I assume one could indefinitely keep their 4/4S backup saved in "the cloud" and use their 5 as a fresh phone and maintain BOTH of those backups in their single iCloud account and theoretically switch back and forth as necessary? If so, I can definitely see the benefit of that but it's not something I need/want to do.