macrumors 68020
Original poster
I was looking through the preview page (
https://www.apple.com/osx/elcapitan-preview/
) and glanced at the image about Metal and the improved graphics performance, and noticed it had some GIF compression artifacts.
https://www.apple.com/osx/elcapitan...view/performance/improvements/image_large.png
So I looked back and looked at the other images, and some images are crisp and perfect with no artifacts, while other images are ugly and dirty with GIF compression artifacts.
I wonder why it would have GIF artifacts when it is in PNG format. They probably converted it or saved it originally as GIF and then converted it to PNG.
How ironic, the image about the state-of-the-art Metal graphics has poor quality!
Here's a piece of the image: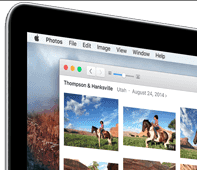 Notice the GIF artifacts? You can especially see it in the sky in the first thumbnail where that woman is sitting on a horse.