macrumors 6502
Original poster
It's time we all must take about this. Apple selling too many devices and eco system works brilliant but there is a problem. Too many wires and chargers. There are so many devices we carry with ourself on a holiday or work. iPhone, Apple Watch, AirPods, MacBook or iPad.
When Apple ditched audio jack, there were tons of wireless earbuds and headphones. Everybody had a choice, from budget to splurge wireless headphones. It made sense and a proper move towards future. Now after MagSafe, we can expect better wireless charging for iPhones. But the biggest problem is we don't have much choices like we had when audio jack was ditched. You see, we fell in love with AirPods. It was light, sound great and paired easily with iPhone with seamless integration and not very expensive either.
With MagSafe, it's different, it's expensive since you need to buy a 20W adaptor too. MagSafe charger priced at USD 39.00 + 20W adaptor at USD 19.00 = Total USD 58.00. I don't usually see the price to judge any device but my problem with MagSafe is it's limitation to 15W. If I buy 20W adaptor, I'll charge my iPhone 12 in 20mins (100% battery) and with MagSafe it'll take 1 hour (100% battery). At the cost of USD 19.00, I'm charging my iPhone quick and saving time.
But that doesn't mean I'm not excited about MagSafe. There is a problem and it needs to be resolved, too many wires needs to go. That's where MagSafe gives some hope for a new future where everything is charged wirelessly with one Charging Station. We have seen that before but 7.5W Qi Wireless charging stations were slow enough. It never made any sense to charge iPhones. But now there's another problem. We don't have anything portable or reasonable priced MagSafe charging station so far.
Let's look at
Belkin
3-in-1 MagSafe Charger - USD 149.99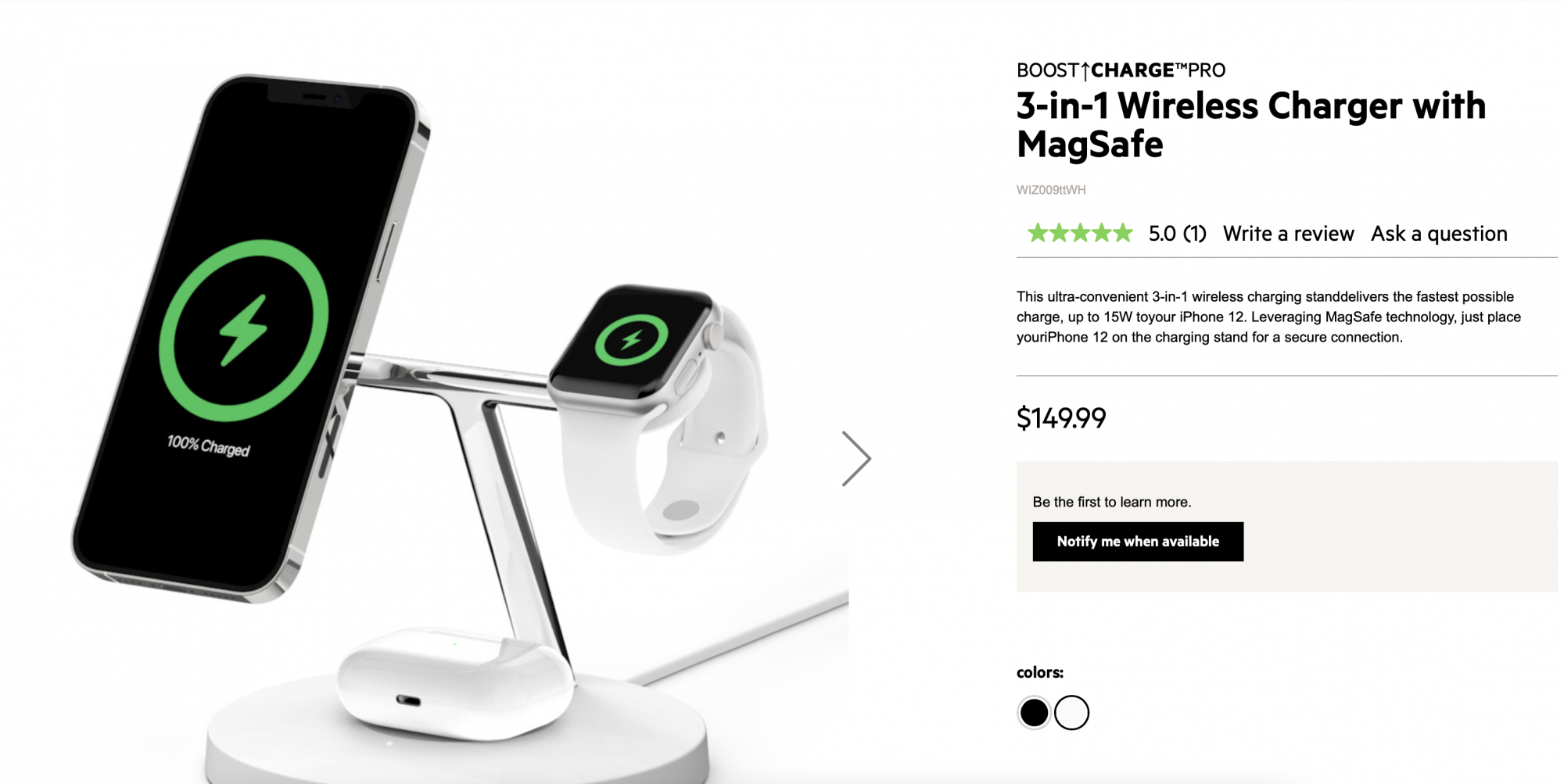 It looks amazing. Perfect accessory but not at all handy. We can't just take this whole thing to work or on a holiday or in your bag. It's just not handy enough. It's not like a small charging adaptor that can fit anywhere.
There's where comes MagSafe Duo Charger
I'm really excited for this. I think this MagSafe accessory is the most practical and worth it. But looking at the price of MagSafe alone accessory which cost USD 39.00, I wonder does wireless chargers need to be expensive? MagSafe Duo will obviously be priced higher and on top of that, we will require additional 20W charging adaptor. Don't get me wrong, this all is great where we are heading. Remove the wires and let's get into wireless technology. We now have 15W double the speed of 7.5W Qi wireless charging but the price still remains high. We don't really have so many options like we had during audio jack. AirPods didn't hurt because it did it job fabulously but all of a sudden a 20W adaptor costing merely USD 19.00 which charges iPhone 12 100% battery in flat 20mins looks so practical.
I want to know your thoughts & views on how you'll are planning to charge your multiple devices while we wait and see more third party MagSafe accessories. I honestly don't mind spending money but it has to be more practical and worth.