macrumors 6502a
Original poster
Hi, I'm encountering a really strange issue that I've tracked down to only occurring in iOS Safari starting with iOS 12.2.
The issue is this. When you first bring up a web page that specifies a height of 100% on the iPhone, it looks fine. Rotate it to landscape and it also looks fine. When you rotate it back to portrait, the bottom of the usable content shrinks up the page a little, leaving a white space at the bottom. There doesn't seem to be any way to place content there, it's as if Safari thinks the physical window is shorter than it is. The height of the white space also seems to add up to the height of the URL and navigation bars, if they were showing.
I put an example here:
https://noderun.com/run/jeff/possible-ios-safari-bug/
Code is here:
https://noderun.com/ide/jeff/possible-ios-safari-bug/
(NodeRun.com is like CodePen)
Is this a known issue? It seems like if it were a Safari bug that this would happen all over the place.
Here's the page before and after rotating: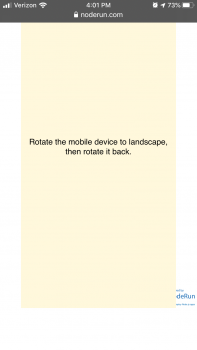 Thanks!