macrumors G3
Original poster
I posted this in the unsupported Macs for High Sierra thread, but I thought some of you might appreciate it here.
I picked up a used MacBook5,1 - late 2008 unibody aluminum 2.0 GHz - for cheap. Installed 4 GB RAM and SSD I happened to have, and it actually runs High Sierra (installed with a patched installer) reasonably well. Page rendering can be slow at times, but otherwise it's reasonable. Safari 11's auto-play blocking makes for a more pleasant and faster surfing experience. Office 2011 also runs reasonably on it. I didn't bother installing Photoshop CS6, because for very basic usage, Photos 3 is sufficient. Photos 3 gets a fair upgrade in High Sierra.
I should note that the machine came with 2 GB RAM and a HD, and it was totally unusable with its Yosemite install. Beachballs ALL THE TIME. It was complete crap, impossible to do anything productive, or even surf. 4 GB RAM and SSD made all the difference. Along with the hardware upgrades, now that we have a modern OS on it, I suspect we'll be able to get a good several years out of the machine, as a secondary surfing, Netflix, email, and recipe machine. My 8 GB + SSD 2.26 GHz machine is better obviously, but 4 GB is OK, as long as you have SSD.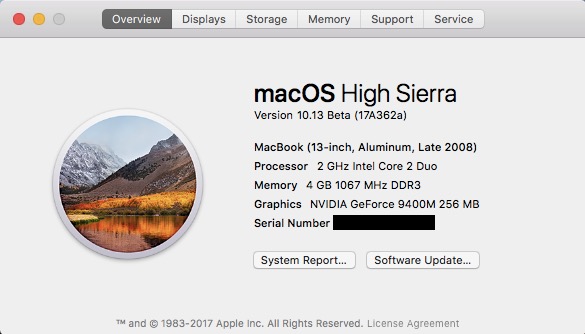 Don't be afraid of High Sierra my friends. Cheers!