macrumors demi-god
Original poster
May 5, 2008
17,019
16,465
Environmentalists have been saying this for decades. First here was CO2 and other greenhouse gases in the atmosphere. There has been has been a steady increase in global temps, the polar ice is melting, storms are getting bigger and badder. Sea levels are rising, downtown Miami is now expected to be under water in 10 years. The moral? Who needs regulations when there is money to be made?
Related to Hurricane Florence, Rachel Maddox is talking about this tonight on her show:
North Carolina Faces Pig Feces Nightmare.
https://nypost.com/2018/09/19/north-carolina-hog-lagoons-are-exploding-poo-after-hurricane-florence/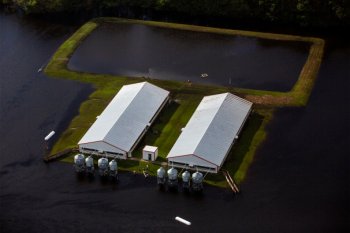 ​
The rain from Hurricane Florence may be over, but North Carolina residents are facing a nightmare — exploding hog poo lagoons.

North Carolina is home to roughly 4,000 of these open-air ponds where farmers store pig excrement and allow the waste to decompose before using it as a fertilizer spray for crops.

As of Tuesday, at least two hog waste lagoons in the state — one in Duplin County and one in Sampson County — have been breached, meaning a structural failure caused the lagoon's walls to collapse or break, allowing poo and urine to escape.