macrumors 65816
Original poster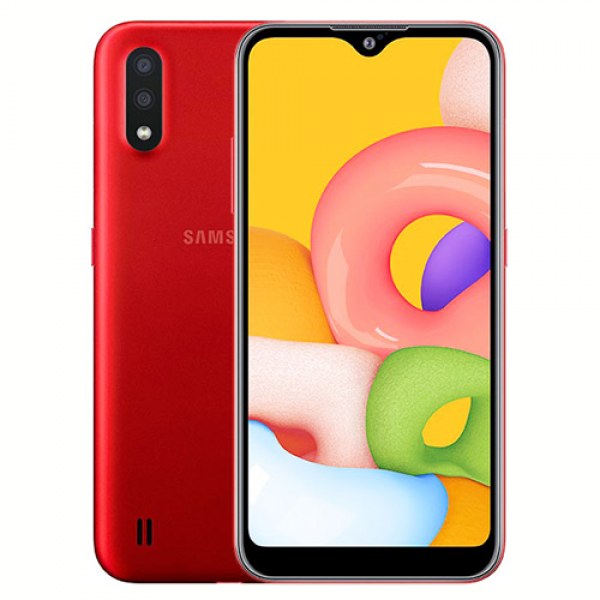 While I've been perfectly happy with my Thunderbolt, Galaxy S4, and Galaxy S5 (main, backup/hotspot/emergency, and work line) I never like to stagnate or remain ignorant of future possibilities and often SIM-swap just to see what's on the horizon (or over the horizon, hehe)
I saw a great deal on the Samsung Galaxy A01 locally and this is a phone that offers Android 10, which I've never tried. The latest I've experienced was Android 9 Pie. So my curious sense tingled, and I swapped my SIM from my Thunderbolt into the A01 and will see how it goes.
This phone is sold at
Walmart
under Straight Talk Wireless, which means it will take a
Verizon
or T-mobile SIM if it's already active. Oddly enough, unlike the Verizon-branded or AT&T-branded "phones in a box" they don't lock you out if you don't activate them via Straight Talk first before SIM-swapping your active SIM from another phone. No hotlining or the like. So this means if I'm not happy later on, I can always and easily pop it back into my Thunderbolt any time.
I also got a new smartwatch to go with this phone, which seemed unique as it's a mechanical watch with its black watchface also doubling as a color TFT touchscreen. So it acts like ye olde standard watch and the smartwatch part is hidden (and is disabled if the battery falls below 30%, acting like a regular watch for an additional 30 days). The brand is 3Plus+ Cruz Hybrid. Phone ended up being $62 after tax and the watch $99 before tax.
Setup went quite easily, not surprised. SIM active already, already setup with a Straight Talk account and with auto-refill so it instantly worked. I did my usual tweaks (it also supports Samsung Themes) including a skeuomorphic icon them and a full skeuomorphic app theme (which makes the built in apps like Phone and the keyboard take on a Galaxy S4-on-Android-4.4 TouchWiz Nature UX look) and installed all my usual apps (I always make sure the apps I always use are installed out the gate) and disabled auto-update (I can get into this but it will span multiple pages)
Got a rugged case as well, and so far the phone feels fine. It's quite snappy, and the Android 10 gesture system while closer to iOS seems more accurate. When I tried an iPhone X after it launched, I could never quite get the recent apps to consistently show (it often just went to the home screen) and the gesture for home made no sense. I naturally want to tap the pill to go home, pretending it's a home button. This is still the case today, although the animation is more intuitive showing the app actually leaving and minimizing to its icon. Apple you blink and you miss it. The recent gesture is more easy to hit, as the UI waits for it if you swipe up and hold long enough. The recents UI, like Android Pie, is very nostalgic and reminding me of WebOS from the Palm Pre.
It's still a tad too large, and won't fit my pockets, especially cased. Unfortunate, since my Motorola E6, also sporting a 5.7" display, and more bezel, is actually smaller than my Galaxy S5. The way Samsung loves making their modern phones longer than they are wide means the top 1/4 of the phone always sticks out of my pocket, which makes it easy to ding and scratch at work. Also makes it easy to have it fall out of my pocket if I'm under a vehicle I'm working on.
The display is NOT an AMOLED, take it or leave it, but AMOLED tends to give me bad migraines for some reason. I tend to not use my other Galaxies as much and favored the Thunderbolt also for having an LCD display. Also bright apps won't impact the battery negatively or burn in the screen. Features such as Smart Stay are missing oddly enough given the 5MP camera on the front (with water drop notch). It does sport a variant of LG's trademark KnockON, as a double-tap of the display while asleep wakes the phone up. The phone still has a headphone jack and expandable storage as well. Unfortunately, the battery is sealed, and there's no IR blaster. Those who are Bixby-haters will be happy--the phone has no Bixby Button and no Bixby Voice (home still exists.). There is a USB-C port which often doesn't exist on pre-paid or budget handsets. There's also dual-cameras, still a gimmick IMO and from my HTC One M8 experience, ended up making pictures come out worse so surprised the dual camera stuff returned.
Software and UI are about as good as they can get I suppose. I still wish Samsung kept TouchWiz Nature UX and while I have bits and pieces of it as a theme, the sounds, nuances are gone. Nature UX fit me perfectly. What One UI is, feels like it's not a real Samsung. Samsung always used TouchWiz (as Sony used the Xcross Media Bar for everything from Playstation 3s to their Bravia TVs and Blu-Ray players) on their products and One UI always seems foreign to me. It'd be like your iPhone suddenly going from iOS to Android 10 with rounded corners. Or Mac OS suddenly using iPad OS instead of Mac OS.
I'll see how it performs during work and a few weeks and if I like it more than my Thunderbolt, it's possibly my first real upgrade. There's a few things my Thunderbolt did better, such as fit my hand perfectly, and it had the best reception of any phone I've owned. It got three bars + LTE at work, which no other Verizon phone ever did, even in the faraday cage of a shop we have. Sprint, AT&T and T-Mobile were all no service in that entire area, and my S5 only got 1 bar of 1xRTT or even dumped to four bars of AMPS (yes, an industrial park actually kept their own AMPS tower online, for their employees--you can't use it for anything since it only works on their own network and if you're not an employee, you cannot make calls). My HTC probably worked as well as it did as its SIM card was recently provisioned via Straight Talk and only allowed the phone to work on LTE bands (it would not connect to data other than LTE, and oddly enough, it seemed to work via VoLTE despite being technically unsupported, as the LTE icon stuck and was usable during a call, and under settings-->status it shows only LTE as the Mobile data type as well as the Voice type, and visual voice mail worked.)
The A01 might be my first new phone in a while, or it might end up in the drawer of other backups. Who is to say. So far it's not bad, and it's nice to try something new once in awhile.
Last edited: