macrumors 604
Original poster
For the best part of the year my secondary on the go notebook for the field has been Acer's Switch 5 (i3, 4Gb, 128 SSD + 256 microSD). Truly proving it's worth thanks to it's flexible 2in1 format, sensible features and representing tremendous value at just $650, equally time for a change.
Enter One-Netbook's, OneMix 3S Platinum a 2in1 that many will likely have never come across, if ever heard of at all. The 3S Platinum is a very different beast being a premium Yoga style 2in1 device, most jarringly is the diminutive form factor with just an 8.4" display as the notebook is an Ultra-Mobile PC (UMPC) class device.
The 3S
Platinum
is by no means a budget device coming to the market with a four figure price point. The notebook offers many of the features one would expect in a similarly priced full sized 2in1 such as; ports, full Touch & Pen support, backlit keyboard, SD Card reader, HiDPI 360-hinge display (2560×1600) and premium build quality. Performance is brisk thanks to Intel's i7-8500Y, 16Gb RAM & 512 Micro PCIe NVMe SSD as long as the expectation is balanced, with the 3S generally feeling much snappier than the Acer Switch 5.
The CPU is an Intel Y series processor, therefore TDP bound with a PL1/PL2 of just 7W/15W so most definitely not a system suited for heavy workloads. For day to day basic productivity the 3S Platinum is best described as snappy thanks to the i7's high boost clocks of 4.2GHz. Sustained heavy loads just no, being TDP limited to around 2.3GHz across both cores or 3.1GHz on a single core, which is fine given the base CPU clock frequency is just 1.5GHz.
Thermals are reasonable, the CPU can get up there (90C) under full Turbo, however it will always be rained in by the TDP limits. Even running the likes of Cinebench R15 doesn't push the thermal envelope. The notebook has an active cooling system, fan is audible when the system is really pushed hard. For the most part the fan is inoffensive, with a silent low power mode available (TDP down). The chassis can get warm to the touch being fully CNC machined aluminium with just the footprint of the average 8" Android tablet.
The 2560×1600 display is crisp and bright, indoors rarely needing to exceed 25%. Touch and Pen (4096 levels) support work as advertised. I opted for a Surface Pen 2 for no other reason than convenience, One Netbook does offer an OEM pen at a lower price point. No artist here, equally as the saying goes "it just works" any Pen following the MS protocol should work with the 3S Platinum's display.
Battery life too soon to really say, I rather expect around 5-6 hours of continuous usage, 7 hours might be a stretch. Much will depend on the display's brightness level and frequently the i7-8500Y processor Turbo's to high clock's. This is where the silent mode will be more useful by reducing the CPU's power limits and fan activity. With W10 fully up, Wi-Fi & Bluetooth mouse connected, playing video off a microSD card 7-1/2 hours is easily attainable in full power mode.
Quirks abound
driven by the notebooks diminutive form factor; keyboard layout isn't standard, however the typing experience is genuinely good once one is used to the layout, miles better than my 2015 Retina MacBook. Camera's or more to the point the lack of them, personally I'm fine omission as this serves to help reduce the footprint. Such small cameras are generally of poor quality and in some circumstance advantageous professionally.
No trackpad? Well yes and no as the 3S Platinum has a tiny optical touch sensor which takes some time to adjust too, equally once acquainted the touch sensor performs adequately. The notebook has a reasonable selection of ports, offering; USB C & A, microSD card reader and Mini HDMI which IMO is a weak point. Mini HDMI in my experience is prone to failure, personally I opt for full size HDMI over USB C with a small portable dock that also expands connectivity significantly. Audio is delivered by a single mono speaker buried deep in the chassis, safe to say it's serviceable. Volume is reasonable given the small size of the notebook and has an almost 360 degree sound stage as the audio is fired upwards at the user through the keyboard and rearwards out the cooling vents.
The 8.4" 3S Platinum is most definitely not for all, being both very niche and expensive for what it delivers, however for those that need a full desktop OS and specifically want 8" tablet mobility this is the one. There are other UMPC's out there with even smaller 5" & 7" displays. Personally I feel these are too small to be usable for my needs, nor do they offer the same level of performance. In regular use the 3S Platinum is beautifully fluid and presents no issues.
I've used other 8" tablet based UMPC's in the past and I really like the format, The 3S Platinum is a level up being a Yoga type device with a far superior keyboard and features. The 3S Platinum excels as it's the first UMPC that feels like a regular notebook in use and with USB C expansion a docked desktop solution is just one step away. The 3S Platinum connected to 4TB of SSD storage and a 43" 4K display makes for a compelling solution as long as the usage/workflow is not heavily biased to CPU/GPU cores/wattage, and one that you can literally fold up and put in your jacket pocket.
Room for improvement, well always the case
I'd like to see the Mini HDMI depreciated and replaced with a 2nd USB C port, stereo speakers would be nice. Such UMPC's might also be good candidates for the likes of the new ARM Snapdragon 8CX, although it may be difficult for smaller OEM's such One Netbook to bring to market, without some level of support from the likes of Microsoft. As I use the 3S Platinum no doubt other things will come to mind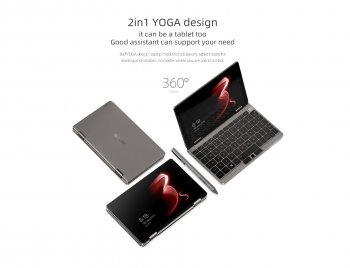 I'll post some pictures if people are interested.
Specs:
Display 8.4 inch, 2560 x 1600 pixels, 360 degree hinge
CPU Intel Core i7-8500Y processor
RAM 16GB
Storage 512GB PCIe NVMe SSD + microSD card reader
A/V Micro HDMI (1.4), 3.5mm audio jack, mono speaker
USB 1 USB 3.0 Type-C, 1 USB Type-A
WiFi 802.11ac
BT Bluetooth 4.0
Keyboard 6 rows, 67 keys, backlit, fingerprint scanner
Touch Touchscreen + active pen + optical touch sensor
Battery 8600mAh
Charger 30W USB-C power adapter
Weight 0.65Kg/1.5 pounds
Dimensions 204x129x14.9mm
Price around $760 and up (starting with m3-8100Y, 8GB, 256 SSD)
Q-6