This isn't my first time trying to install Windows without Boot Camp, but I haven't done so in a very long time and I may be outdated when it comes to this area.
I followed the instructions in
this guide
but I keep running into problems.
First, I used unetbootin on my Mac to make a bootable USB of the latest Windows 10 ISO (Win10_2004_English_x64.iso) but I ran into an issue that said:
Code:
Windows cannot open the required file D:/sources/install.wim!
I then used Rufus on my Windows 10 PC to make a bootable USB of the ISO targeted to UEFI systems but then I ran into this error: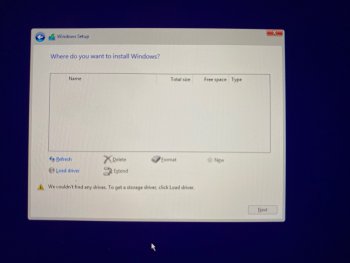 I made sure I properly formatted the partition (MS-DOS FAT) and MBR is set to protective so I supposedly have no issues here.
Code:
MBR: protective
  BSD: not present
  APM: not present
  GPT: present
Boot Camp Assistant doesn't work well for me. I either get an error in the first step of trying to download windows support software, or the estimated download time remaining is over 600 minutes which I am absolutely not going to wait.
I don't need the Windows support software because I'll just use
brigadier
solution once I finally boot into Windows on my MacBook.
If anyone has any ideas how to achieve this without having to use the dreaded Boot Camp Assistant, I'd be eternally grateful.
Thank you so much.