macrumors 6502
Original poster
So I've been thinking about the mini LED iPad for a while now. I've been waiting for years for iPad to update to a better screen technology because I care about good black levels and high contrast ratio. For the last few years we've seen Apple start using OLED on iPhones and we've heard rumors about Apple taking interest in mini (and micro) LED. Apple has also introduced new dark modes for iOS/iPadOS/macOS that unsurprisingly look much better on OLED screens.
Now the main benefit of OLED has been that every sub-pixel has its own light emitting diode which means black pixels are completely turned off. OLED has its disadvantages in blue sub-pixel degradation, burn-in, high energy usage when showing full white screen, black smearing, blue light shift, etc. That is why micro LED looks so promising as it would have an LED for every sub-pixel to allow for true blacks while avoiding some of the problems with OLED.
While micro LED is still in development, we're at a point where we expect Apple to release products with a mini LED display which is a̶ ̶w̶a̶t̶e̶r̶e̶d̶ ̶d̶o̶w̶n̶ ̶v̶e̶r̶s̶i̶o̶n̶ ̶o̶f̶ ̶m̶i̶c̶r̶o̶ ̶L̶E̶D̶ similar to normal LCD displays but with the backlight consisting of thousands of small LEDs. In mini LED, An LED would span over multiple pixels on the screen. It's not as ideal as OLED or micro LED but this is a limitation we have to live with for at least a few years. 😒
Apple has also recently released the Pro Display XDR which has a FALD backlight system consisting of 576 LEDs for better local dimming. The Pro Display XDR and other displays like high end TVs with FALD show us that dimming zones that span multiple pixels can cause blooming when the contrast between neighbouring pixels are too high. This is very noticeable on white text with black background which is a common scenario when using dark mode. There are many more scenarios where blooming artifacts has shown to be a problem on FALD displays such as a night sky with tiny shining stars or the mouse cursor on a traditional computer. The image below shows a comparison between Samsung's LCD with 50 dimming zones, TCL's mini LED with 15,000 LEDs but only 768 dimming zones and LG's OLED (24,883,200 zones? 😏).

Image captured from YouTube channel
HDTVTest
. Video: TCL X10 4K TV Review: Mini LED vs OLED vs QLED!!
In december of 2019, we got a
juicy rumor
from Kuo Ming-Chi himself about a 12.9" iPad Pro with a mini LED display. According to Kuo, this new iPad will use approximately
10,000 LEDs
. Each LED would be below
200 microns
in size. We're currently expecting this iPad to be released in
early 2021
. Compared to the paltry 576 LEDs of the Pro Display XDR, 10,000 LEDs should lead to less blooming artifacts assuming that the LEDs can be controlled individually. Could this be good enough to leave us not wishing for OLED?
As we got an approximate number of LEDs we can speculate on what resolution the backlight system will have. The 12.9" iPad has a traditional 4:3 display with a resolution of 2732 x 2048. Assuming an LED grid size of
120 x 90
we would have 10,800 LEDs in total, each covering ~22.76 pixels or ~2.184 mm. In 2D, that would be ~518 pixels or ~4.77 mm². With a size of 0.2 mm, these LEDs will be sparsely distributed in a similar manner to Pro Display XDR. The new iPad might not get 120 x 90 LEDs exactly. I might be wrong by a few rows/columns but we can use this number for now to visualize how some UI elements and other content might handle these dimming zones on the screen.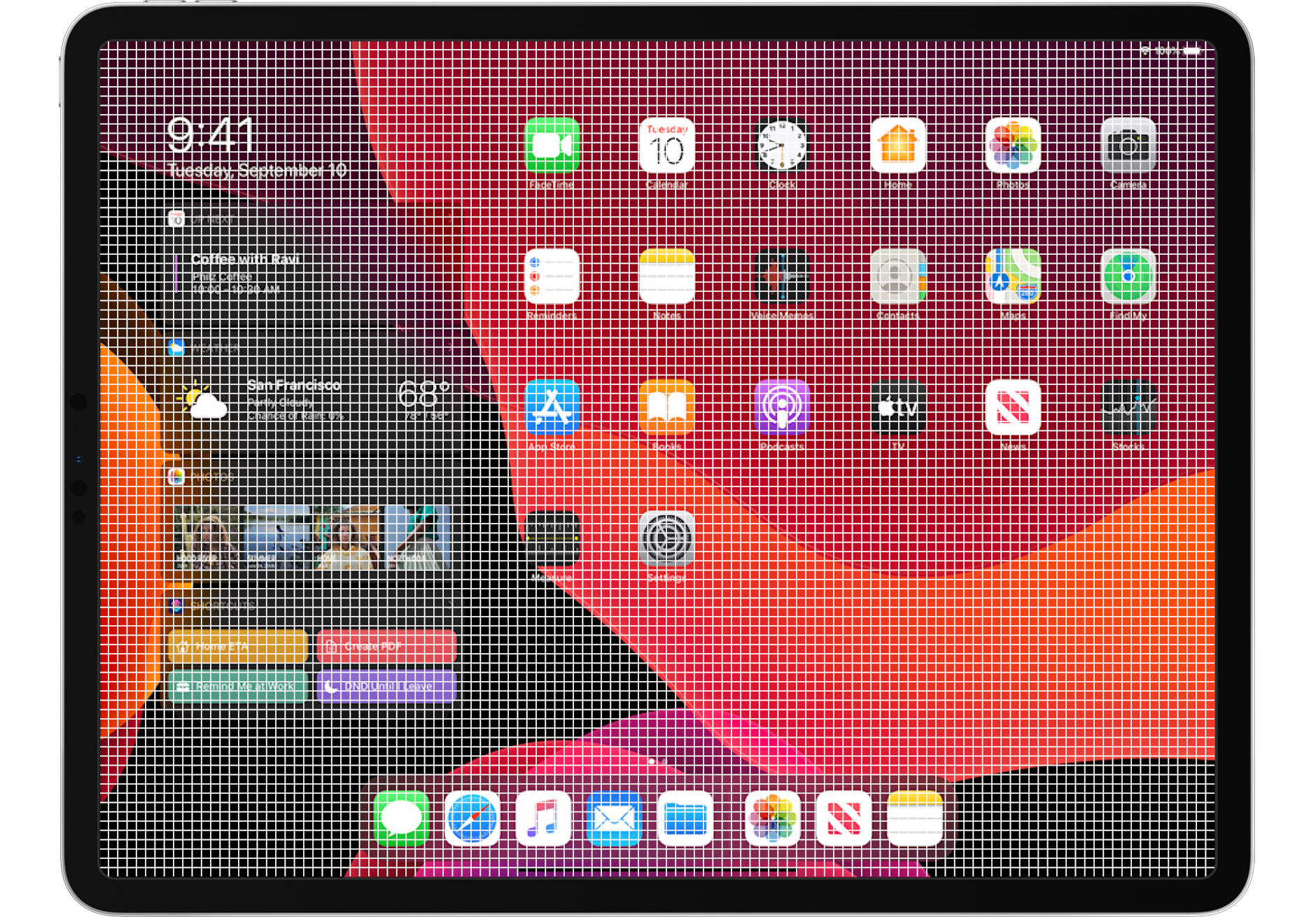 First we have the homescreen, in dark mode of course. This example shows how small the dimming zones are compared to UI elements. Icons will be on a 6x6 grid meaning that black level detail will likely be lost on some icons like Measure and VoiceMemos. Text has about the height of one full LED but text elements are not always aligned to the grid which means that we should see some blooming on this dark background. The background itself has pronounced edges between the orange/red/pink color and black which would work well with these small LEDs.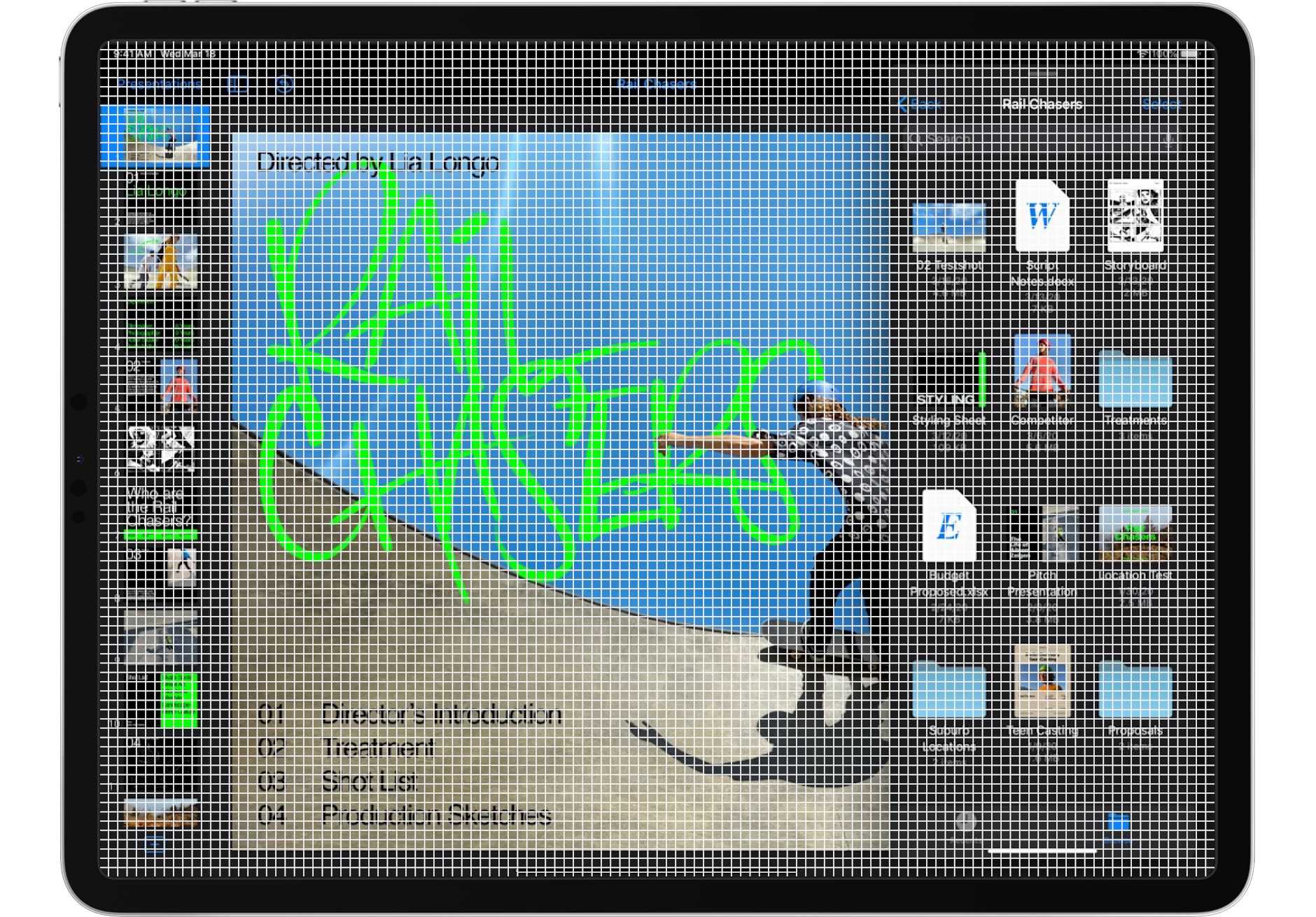 Next we have a Keynote presentation with Files in slide over. Large UI elements like the top bar will benefit the most here as a big part of it is completely black with the exception of the blue buttons and title text. Some file icons like the styling sheet will probably retain a black color while the white files could be bright white. The skater in the presentation have deep black pants as they are covered by many LEDs.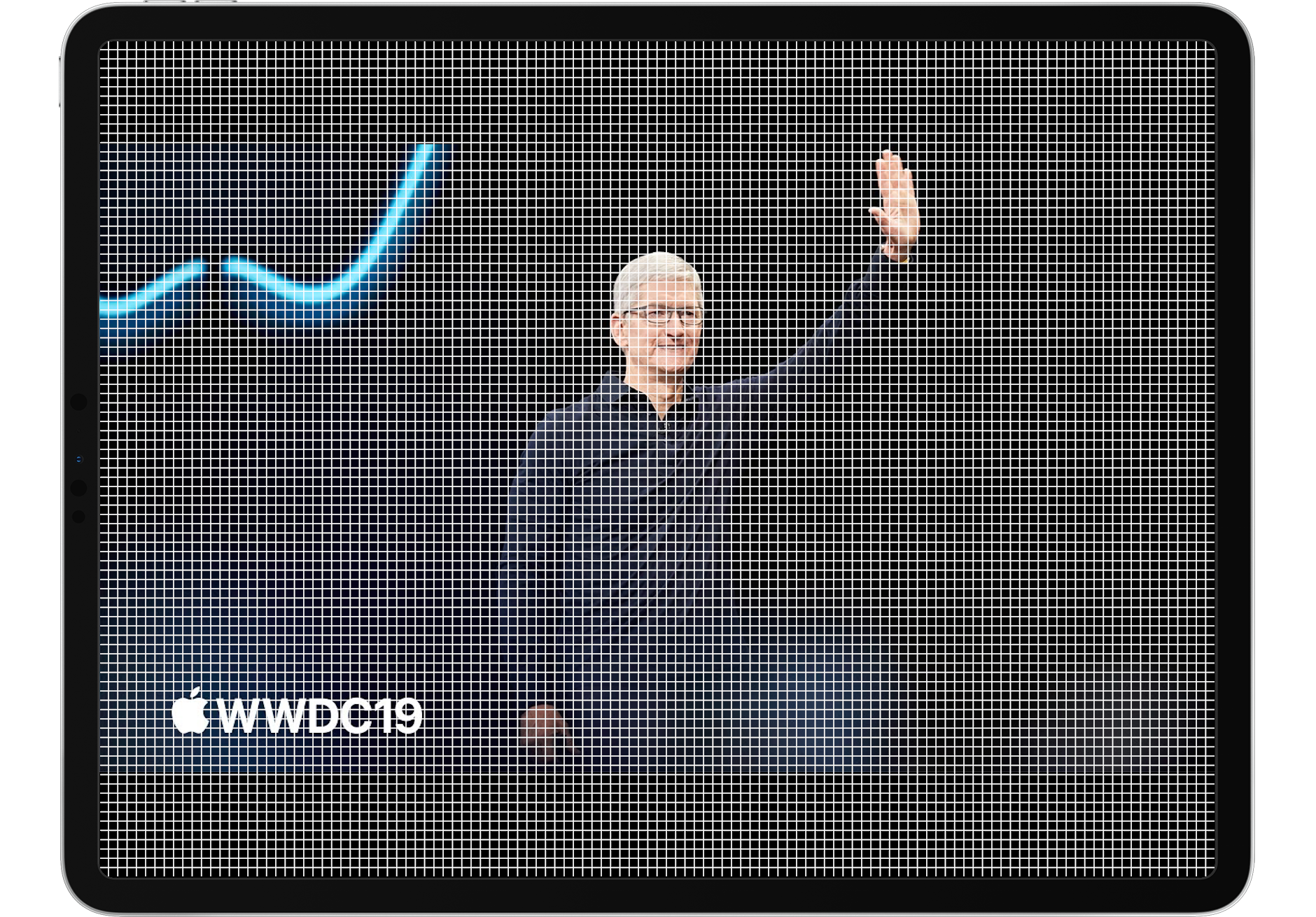 And last we have an image of a 16:9 video of WWDC19. I personally think video will benefit the most from the transition to mini LED. The iPad will finally have true HDR support, deep blacks and true black bars for 16:9, 2:1 and 21:9 content in full screen. That neon Apple logo would look so good surrounded by the black background.
Of course this all depends on if these LEDs are individually controllable resulting in 10,000 dimming zones. We could end up with something similar to the TLC TV above and none of this would apply. Local dimming might not even work for anything other than video if it's not possible to control this many points at a low enough latency.
What I want to say is that I'm looking forward to this and I can't wait to see it with my own eyes. Are you guys as hyped as I am?

Last edited: