macrumors member
Original poster
Hey folks.
Late 2013 Macbook Pro Retina 13"
. Running an up-to-date Mavericks 10.9.5 but haven't added any new software to the computer since getting it in 2013 - so don't see how this could be fixed with El Cap as it was working fine until recently.
Machine locking up / freezing
Past few months its been acting up - it started with a few audio glitches (when playing music from my DJ app, music would completely stop and then skip ahead) and trackpad/keyboard freezed up every now and then.
Turned it on last night and right after logging in, the trackpad/keyboard freezes immediately! No matter how many times I restart and try again, same deal. It works every odd time if I'm CONSTANTLY moving the trackpad - if I stop moving it for 3 secs, machine hangs.
Safe mode works fine, but GFX are quirky....
What's funny though is that if I boot into safe mode, I can use the machine no problems. However, I did notice some little quirks in safe mode in regards to the graphics. Everything is a bit laggy and jittery, and I'm experiencing the zigzag line jitters in a few places: (1st pic in safe mode with Preview app, 2nd pic is after entering login details in standard boot):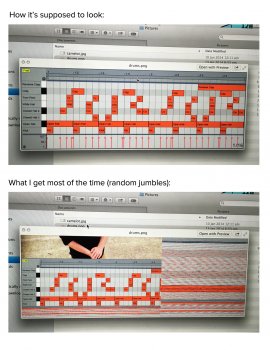 Is this a telltale sign of a failing graphics card or could this also be a logic board issue? Would a failing graphics card really make the audio in my DJ software skip/hang and freeze up the trackpad? I have a genius bar appointment in 2 days, any advice/help would be great before then! Thanks <3