macrumors Core
Original poster
Aug 31, 2011
21,186
13,026
What do you prefer?
I prefer urban.
Here is my prejudiced viewpoint on the matter.
My parents moved from an urban city (Houston) when I was 9. From the age of 5 to 9 Houston is where I grew up.
In 1980 we lived in the suburbs for two 2.5 years but ultimately ended up in a rural town of less than 3000 people.
At that point I'm 12, my school friends are 30 minutes away by frewway and we're living on the side of a mountain where the closest chain grocery store is 10 minutes away. There are no sidewalks and the street is dirt.
By 1984 we move southeast but still in the same backwards town. I didn't get out of that town until 2000 when my wife and I moved to Phoenix.
So for all of my teenage years going to the mall was an endeavor. Hanging out with friends was a planned event. Want a snack? Ride your bike to the convenience store (10-15 minutes) and pay jacked up prices.
Lots of people have told me over the years, my wife included, that rural is great. Few people, great scenery, good air/water, etc.
I hate it! I hate rural. Nowhere to go, nothing to do (I don't count hiking or trekking over hill and valley as something to do). I want my conveniences and I want them close. And I'm perfectly willing to settle for confined spaces and lots of people in them in order to get it.
I go to coffee shops a lot. My kids and I take a table and browse the internet. Way back when, that was a 30-45 minute trip! One way!
My car has less miles and I have less maintenance issues. I pay less in gas. I have central air. No big deal to a lot of people but the uninsulated 1960s house I spent my teen years in didn't. I froze in the winter and sweated in the summer.
The scenery you get in a rural setting is not enough. After a year or so living in that area with me, my wife agreed. The 'novelty' of living rural wore off.
The irony of leaving that area in 2000 in order to move to an urban center is that AFTER we left, EVERYTHING I wanted as a teen showed up in that sleepy town and it's surroundings because of a boom in housing construction.
Guess I should have left earlier!!!
Anyway, had a discussion on this elsewhere this morning so wanted to post it here to see what others thoughts are on this.
EDIT 8/4/2017: Where I spent my time from age 12 to age 27. Looking east from I-10, Cherry Valley, CA.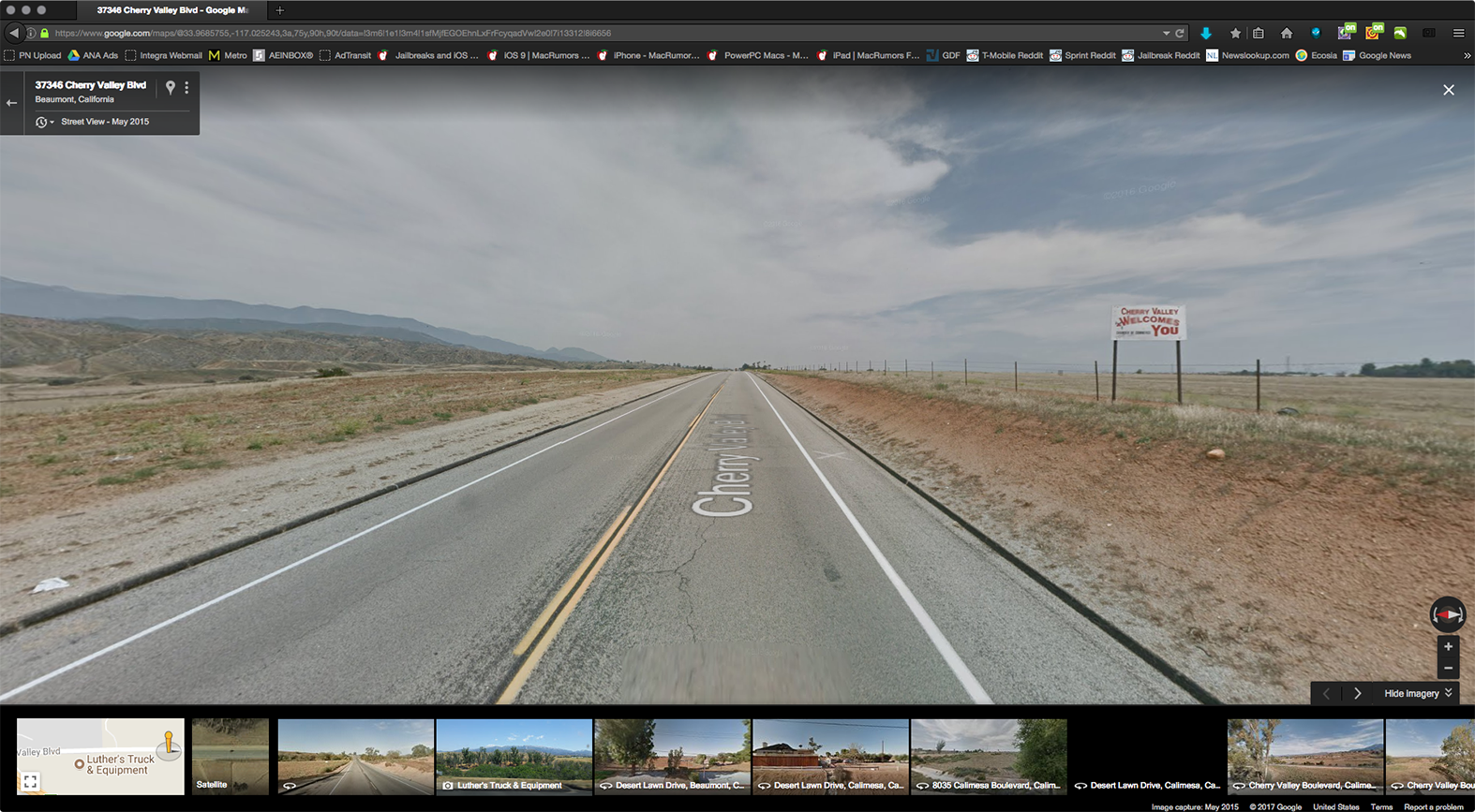 Last edited: