macrumors regular
Original poster
Hi folks.
So, like many of you I decided to sell my phone to
eBay
instant sale. By description phone is in good condition with regular wear. Occasionally I would have problems with home button being unresponsive.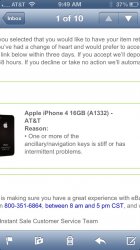 And this is the main reason why eBay offer went from $200 to $105. Totally understand. But would u take that offer or is it to low?
I just need to hear what are your thoughts?
Thank you