Contributor
Original poster
IPP 11 G2 (on iOS 14 db4)
Magic Keyboard vs
Logitech
Folio
This will be a "short" comparison via use of these two IPP accessories.
I have been using a Logitech Folio for over a year. First with my G1 IPP 11 and later with the G2 model. It has been a workhorse from day one. I originally bought it as the ASK did not have backlighting as an option.
Logitech Folio (LF)
is a very good smart keyboard. There are keyboard options for many of the IPP functions and it is comfortable to use with a complete set of keys (including function keys).
Pros
:
Full range of keys
Adjustable backlighting
Can use with the IPP in Portrait or Landscape
Has keyboard options for many IPP functions
Has a real keyboard feel to the keys
Long battery life
Cons
:
Bluetooth connection means lag for some activities
Has to be seperately charged - has it's own battery
Not an easy attach / remove from the LF
I originally was not going to get a MK. I read a lot about them and was able to try one for a 12.9" IPP. However I ended up with a $250
Amazon
Gift Card and decided to order one via Amazon who had them on sale.
Apple Magic Keyboard (MK)
is a good smart keyboard. I am in the process of learning shortcut key options to make up for a lack of physical function keys. As a touch typist I have to agree with some that have complained about the position of the screen vs key locations. In the few days I have used this, nicking the bottom of the IPP is common. Seeing how / if I can adjust. Still trying to get used to the touchpad - its accuracy, maybe it takes time, is not as precise as I hoped.
Pros
:
Quality build with a solid feel
Touchpad built in
Do not need to charge the MK
Does not use BT - no BT lag
Great key spacing
Very solid build and the magnets really hold it sturdy
Cons
:
No realistic portrait option when typing
Screen placement does interfere (mildly so far) for touch typists or if you have large hands / long fingers (I have all of these)
No physical functional keys - trying to learn keyboard shortcuts in place of this
The keyboard reminds me more of an ASK than an actual laptop.
Has a number of things "to get used to" instead of just diving right in and using
Summary
:
So far I like both of these devices. For daily use I am more comfortable using the LF and will have to see in the future if my feelings change. One last note, my other half says my typing on the MK is a lot louder that when I type on the LF.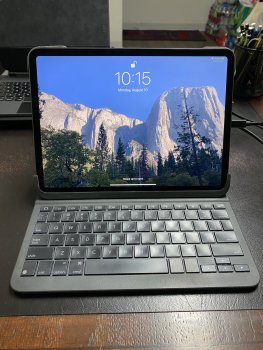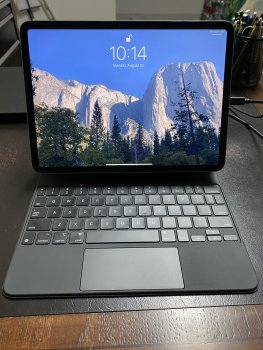 Last edited: