macrumors 6502
Original poster
I can't believe that today marks ten years since iLife '08 came out, infamous for its' major revamp of Apple iMovie. Many were shocked by it, and compared to the previous version, iMovie HD 6, it was more limited, and used a more funky user interface that lacked the traditional timeline: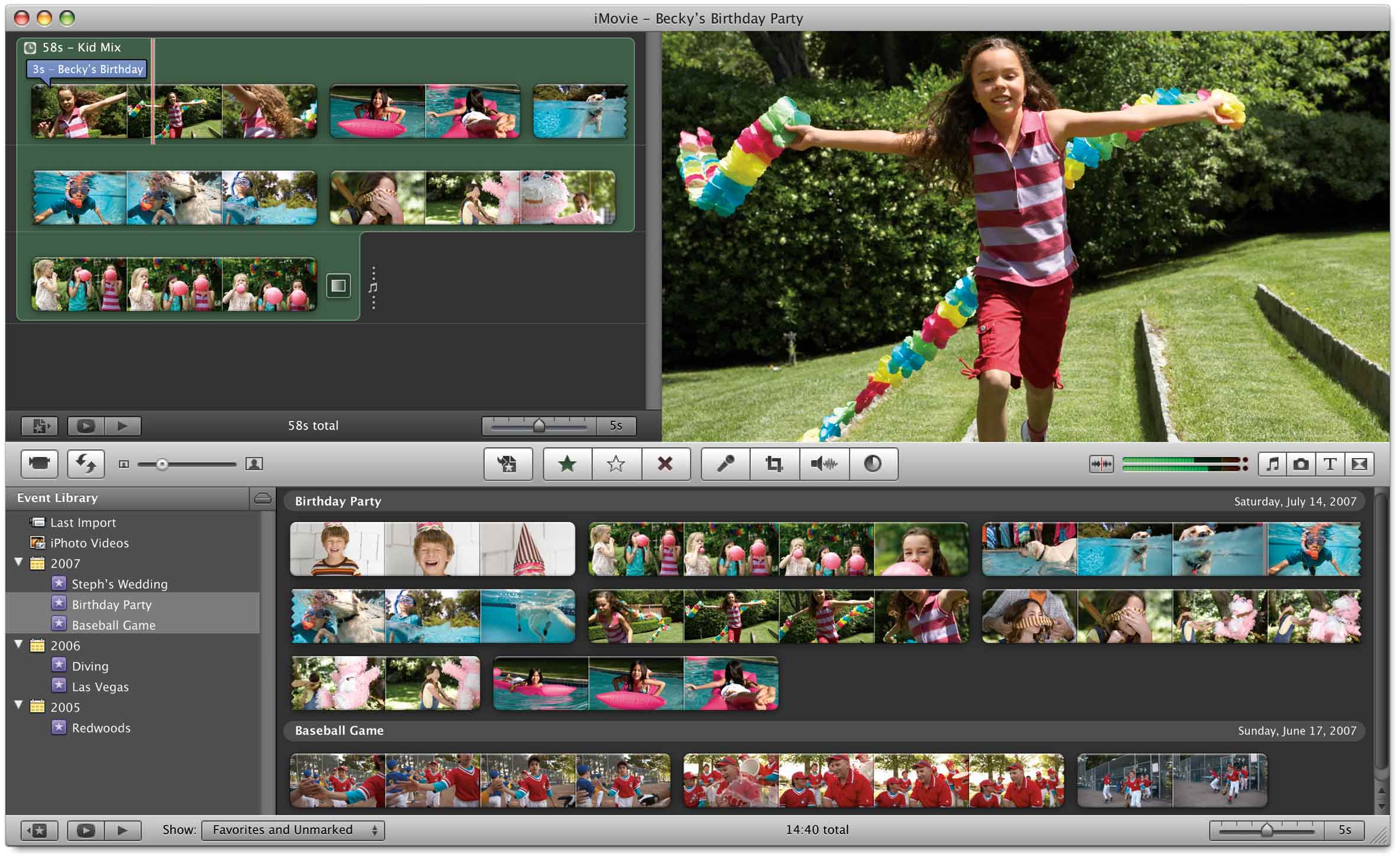 It also didn't have decent audio editing (especially lacking rubberband audio editing), basic or fancy video effects, 3rd-party plugin support, themes, DVD chapter marks, exporting only part of a video, or sending back to tape, all of which were pretty much common in competing video editors, especially ones made for Windows (such as Adobe Premiere Elements, Pinnacle Studio, Sony Vegas Movie Studio, etc.)
But there were quite a few good things about it too. The color correction was vastly improved, some of the title templates were neat, it did everything in realtime (no more waiting to render, even if previous iMovie versions had background rendering), you could work with more than two layers of background audio (up to at least eight, IIRC), it allowed you to easily upload to websites, the skimming in the "timeline" was handy, and how you could easily select parts of the clip you'd want to edit and drag to the "timeline."
I never used this version of iMovie (by the time I actually got a Mac, iLife '09 was out), but I did play around with it a bit at the Apple Store at the South Shore Mall in Braintree MA, and was impressed by the speed, skimming and clip selection.
And Apple offered iMovie HD 6 as a free download for iLife '08 users that weren't satisfied with the new iMovie, or couldn't run it on their G4 computers (you could using a certain hack, but many wouldn't bother.)
As the years went on, Apple improved on this new iMovie; '09 noticeably brought back quite a few features from iMovie HD, such as themes, fast/slow motion, video effects and filters, and even DVD chapter marks, and it also included some cool new features such as the "maps" thing and the ability to work with a second video track of sorts. Then iMovie '11 added even more cool new features and brought back useful old ones in 2010, which I will admit I think was the best version of the "new" iMovie to be made (maybe even the best iMovie out of all of them?) I used it as my main Mac video editor for quite a while. The trailer creator was really nifty, and I was so glad they brought back rubberband audio editing to it. I also enjoyed the interface mode where you could edit video in a single horizontal row on the bottom, ala the classic timeline.
For iMovie 10 in 2013, the interface was more "modernized." It went back to using strictly the single horizontal row on the bottom ala the timeline, and I liked that. But it also reduced export options, and made it so you could only work in widescreen projects, and removed chapter mark creation (again). Other than that, the rest of the iMovie '11 features were carried over, and a few new additions were made. I also like how importing/exporting would be a background process, instead of having a dialog box interrupt everything as in previous versions. This is the video editor I now use for vlogs or any smaller projects (especially if I shoot them in HD.) But for anything else elaborate I do (like my YouTube Poops), I typically use Final Cut Pro X.
Any thoughts/memories?