Hi all,
Im currently using a 2012 RMBP which is fine but its getting old now and I really fancy a 12" MacBook for its portability. I originally had an 11" MacBook Air back in 2011 before the RMBP which I loved for its size.
My current machine specs are: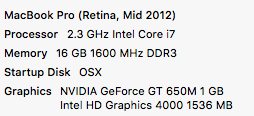 I mainly only use my machine for web browsing these days and listening to Spotify with a little photo editing.
My MBP I have docked to a dell 30" monitor which I run at its native 2560 x 1600 through DisplayPort. If I was to get the MacBook and a dock allowing me to connect it to the monitor would it be able to power the monitor at its native res? or do you think I would notice slow downs pushing that many pixels?
Also from my current spec MBP is the M3 / i5 MacBook a downgrade do you think?
Any advice would be great
Thanks