macrumors newbie
Original poster
Hi all,
My (early '15) MacBook Pro (A1502) took a tragic fall! Clutch cover popped off, busted threading in the hinge screws, iSight and Airport cables fraying by the second. I made a futile, messy attempt at tightening the two screws that hold the hinge to the display assembly (underneath the clutch cover) with some Threadlocker adhesive and cannot find any info about the ones necessary for replacement anywhere. All of the replacement parts for the right hinge with antenna cables available for purchase include a new hinge mounted to it, but not the screws I need.
Are they T5? Not to be confused with the T8 screws that secure the display to the lower case.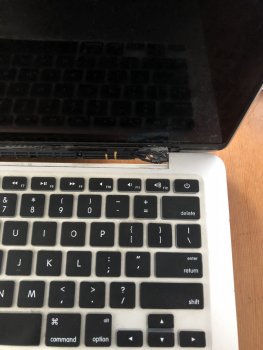 Thank you for any help you can provide.