macrumors 6502a
Original poster
Hello,
i bought yesterday afternoon and after opening the plastic i saw an black fiber type tiny thing stuff near berzel meeting volume rockers part, and if you run your fingers on the whole edge of the body on volume rockers side where screen ends and chassis starts , you will experience an smooth slik going but when the finger meets the part where i detail below it feels rough texture like an uncut on and then its smooth again.
Odddddd things but after cleanign my ipad last night i saw an dust mark that just wont go way and i tried rubbing again but nothing. after looking thru diamond eyeglass i saw its underneath the screen ( i guess since its not laminated i went thru in factory)
and other odd issue is near volume rockers, the whole ipad display is perfect like berzel meeting chassis, but near volume rocker theres an some part of that berzel that is little bit longer than the rest of body (guess it didnt cut right) and i can see under my eyeglass that theres some gluely resdiue like an dried one and there was some kind of dark black color fiber stuck inside it in which i cant get it out ( This was like that when i unwrap the plastic the first time)
This is 32gb ipad gold bought at bestbuy
Below is the dust under the screen
This is the tiny part thats sticking out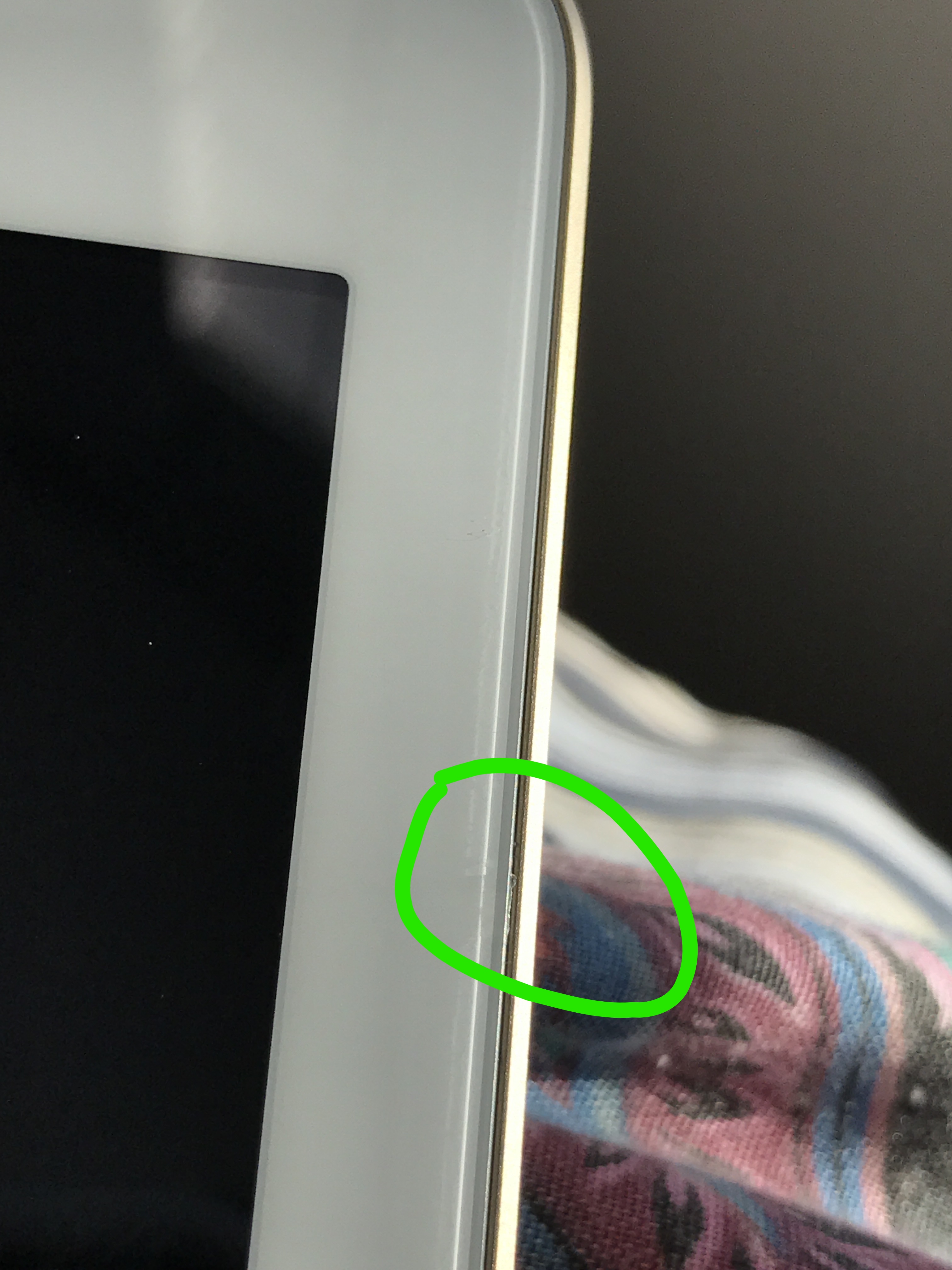 [doublepost=1492086921][/doublepost]The main reason i am concern is i am buying things to put on it like full body clear skins and stuff which cost me 20 dollars and i dont want to put it on this and this ipad be defective (which is looks) and i have to buy another set of skin of 20 again and other reason is i am leaving country end of next week for overseas vaction and i am taking this with me on trip to use and i dont really have time left to mess with returns and exchanges stuff.
Can with gold or silver ipad post input please ? since they have white front
Last edited: