macrumors 6502
Original poster
I've alluded to this mod in an earlier post, I have since implemented it and used the moded machine for a while to form a mature opinion about it. I think this mode is great for people who regularly use their MacBook in clamshell mode although I cannot recommend it because it obviously voids warranty (but Apple doesn't have to know since it's non-destructive).
Pros for the mod:
non-destructive, completely reversible
relatively cheap, easy and safe to apply
does not significantly affect normal usage
up to 20 degrees lower temperatures under sustained load
reduced fan speed under such load, and therefore noise
higher sustained power under such load, up to 7W more power
can accept external cooling like heat sinks or ice packs for silent cooling even at max power
Cons:
can burn your skin if not careful
prohibits laptop use under high loads
potential damage to skins/cases/tables/table mats
thermal improvements are mostly negated when sitting flat on a surface
Theory
https://forums.macrumors.com/threads/im-thinking-of-a-thermal-mod-for-the-mbp.2133914/
As I have mentioned in this post, due to the proximity of the heat source and the bottom cover which is effectively a big radiator, we can simply couple them together and let the bottom panel radiate heat into the environment.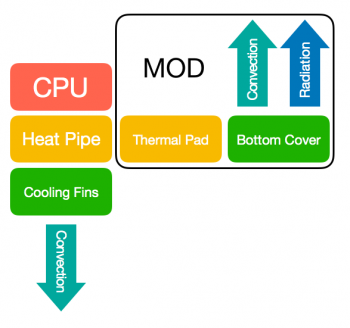 Application
Quite simply, you remove the bottom cover, and apply 1.5mm thick thermal pad to the hottest areas like so: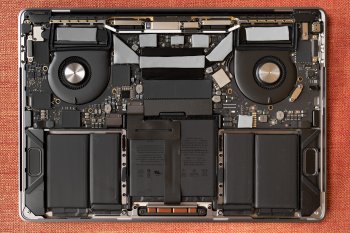 The power regulators up top don't really need this because they can tolerate very high heat but I paded them anyway because they could offer better efficiency at lower temperatures and thus reduce power consumption.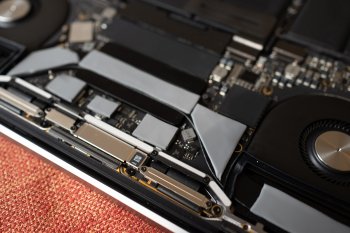 And that's it, you just pop the cover back on and you're good to go. Except for the bottom cover to effectively radiate heat, it can't just face the surface of a table because that will just heat the table up to the same temperature and then you don't radiate much more heat.
For optimal performance you need to either place the machine in a stand or flip it over on the table so that the bottom panel is facing preferably a cool area of the room (not under the sun beside a window).
Results
All tests are done in clamshell mode, this makes a difference because the CPU package actually draws about 5W more power regardless of everything else, when you output video.
In this chart blue represents stock obviously, I tested by simply opening up a save game in StarCraft 2 in Windows with turbo boost disabled, which produces a constant and reproducible load.
Orange is the moded machine but just placed on the table like normal. As you can see there is an improvement but not much.
The magic happens when you flip the machine over and let it just radiate into the room, represented by the gray line. The yellow line represents the flipped over machine with a big aluminum heat sink just placed on it. There is almost no difference from the heat sink because heat sinks don't provide significantly increased surface area for radiation, it gives improved surface area for convection.
I have not tested this but placing it on a laptop cooler should be just as effective as flipping it over on the table. (where as those products don't actually help the stock laptop, or most other laptops for that matter)
If I add a fan to blow across the heat sink, temperatures are
further reduced to around 72
degrees. Such a setup can completely eliminate internal fan activity even under heavy loads. And you can use fan control to force the fans to minimum speed and still run at over 30w without hitting 100 degrees for any amount of time.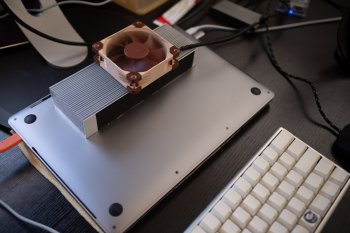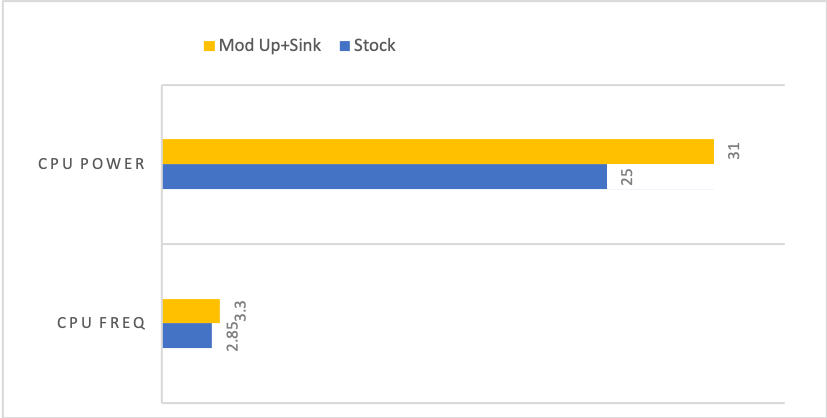 I also tested constant power, by immediately running Cinebench after I warm up the machine with StarCraft. As you can see, the stock machine can then only accommodate about 25w of cpu power, while the moded machine can run at 31W.
At this point CPU power is basically bottlenecked by thermal paste performance, even with ice packs directly on the bottom panel, I could not really get any high power through the CPU. I'm guessing I would need to apply liquid metal for further improvements. Interestingly, when you distribute the load across CPU and GPU, you can get
like 40w through the package
without thermal throttling but the CPU can only take about 35.
Potential problems
Obviously this makes the bottom cover
dangerously hot!
You think your Touch Bar is hot? that won't actually burn you, not for like 10 minutes. This mod makes the bottom cover so hot it
can burn you in a few seconds!
Unless of course you have just removed your external cooling equipment.
This means you can no longer game with the thing on your lap without a blanket, which I don't think is an important use case to consider. You can still browser the web or watch videos with it on your lap no problem. In fact you can cool the laptop with your blood and circulatory system this way, so long as the thermal power doesn't overwhelm your skin.
So I wouldn't place the $200 leather sleeve under my MacBook after the mod if I plan to run heavy tasks, but regular cloth, fabrics and wood surfaces should be fine with such temperatures, which is as high as you can expect from a hot cup of coffee.
Last edited: