I finally took the plunge and bought a Razer
I've had this now for little over a month
I opted for the advanced model with the optical keyboard for reasons listed below.
Specs: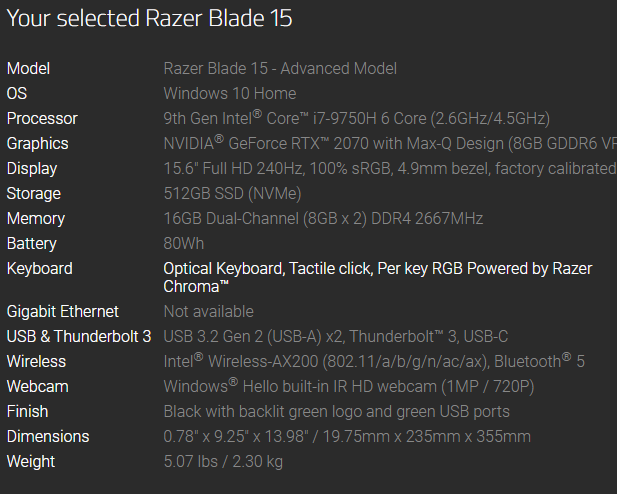 Here are my thoughts:
Fit and finish - very Mac-like in many ways. It feels solid and built extremely well.
Speakers - a huge upgrade over the thinkpad, which were downfacing.
Keyboard - here's where things get interesting. I know with the 2019 model, Razer upgraded the keyboard keys so the secondary values like @#$ are illuminated but I opted for the 240hz display and since I was going for that why not the optical keyboard. Well that specific keyboard does not have secondary values illuminated for some wacky reason. Boy was I disappointed. The keyboard does not have the same feel or travel as the Thinkpad, and this is where I give Lenovo their due. The keyboard is fine though the travel is a tad short and its clickier then I may have preferred. I've largely gotten used to the odd / key placement - mostly because I remapped it.
Ports - inferior but manageable
Process/GPU - this is where this bad boy shines, its FAST and overall temps are in the 40s during light nominal work, gaming and benchmarks the temps creep up into the 80s and low 90s. Fan noise is surprisingly quiet mostly. Once the temps do reach the 80/90 mark the fans kick into higher gear and are more noticeable. Overall though its much quieter than the Thinkpad - in fact the noise difference is night and day.

I love the matte FHD 240hz screen, I found 4k in a 15" form factor is just too small to really take advantage of the 4k resolution. I'm quite pleased with Razer's screen.
The major reason I opted for the 240hz screen was due to PWM. I came across people complaining about PWM on the 120Hz screens (starting about December 2019), it appears Razer switched panel makers around that time and people are unhappy with the PWM. Wanting to avoid that whole headache (pun intended), I upped my budget and opted for the 240Hz screen - I'm quite pleased with that decision.
Not everything is rainbows and unicorns, I find for the high price the small amount of ram (16GB) and storage (512GB) is frustratingly inadequate. I did pick up a 2TB SSD so that largely mitigates that issue though I do wish they opted for 2NVMe ports.
I'm ok with the synapse app, though for all of the bloat it doesn't really let you control too much, I'd prefer more control over the GPU and fans.
tl;dr Bought an Advanced 2019 Razer and its been a great experience.