macrumors newbie
Original poster
Hi,
Finally I have got so much frustrated with my sd card slot that I am posting here for some kind of a solution.
Background:
I purchased a mid 2011 21.5 inch iMac about 2 years ago (Yes I know apple released 2012 version iMac then, but I got a real sweet deal). Started off with Lion, updated to Mountain Lion same day. Updated to Mavericks when it released and I also have a partition running Yosemite preview.
The Problem:
I like to tinker around with Raspberry Pi. Most of you might know it, but for others its small computer with sd card as its memory. You burn images of the OS into the sd card and plug it in the Pi. When I got pi, I had Mountain Lion running. I could read and write cards perfectly.
Then after installing Mavericks, the sd card slot has now become read-only ! Not only that, but the name of the card(s) that I use all appears as "Untitled". I can copy paste files to the Mac, no issues, but can't write anything to the card. Nor am I able to repair/verify in Disk Utility.
Also the iMac is not under warranty (nor was it when this issue cropped up), I even contacted my local Apple service, they said they could diagnose/solve the issue for a fee, but did not promise to guarantee a fix for the issue or money back.
What I tried so far:
1. I have maintained a bootable copy of Mountain Lion from which I could write to the card, but even booting from that partition does not work.
2. Varied sd cards - I've tried everything from 1GB to 32GB cards from various manufacturers that are verified to work in other devices (digital camera, windows laptop, Motorola Moto X and Samsung Note 2). Even tried different formats like FAT 32, NTFS, HFS+ etc.
3. Reinstalled/Clean installed different OS versions - Lion, Mountain Lion, Mavericks to no avail.
4. Tried putting the switch on the sd card/ adapter to middle position as claimed by some users on the internet.
5. Tired using the Terminal, but that too failed.
6. Not to mention I did SMC and PRAM Reset **Edit**
Things to know
:
I have never opened up my iMac.
It has no physical damage. Never inserted things in sd card slot- like pins, toothpick etc.
The non working sd card slot is not crucial, because I simply use the windows laptop, but it keeps bugging me that I can't diagnose the problem, or find a solution.
Following is the screen grab of the info from finder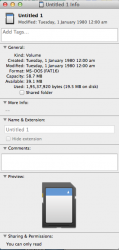 This is what I see in Disk Utility. Of the 2 partitions, I can access one but not other.