Hi, as I see a lot of people trying to achieve the same thing on his old imac 27'', and searching the net trying to see if someone has already done this, we end up
here
thinking it's not possible to swap the mini pci-e wifi card, I'll update with my experience: it works, you can have usb 3.0 on older imac (with some caveats).
I have an imac 27'' Quad core late 2009 (11,1). I've successfully removed the airport card and put a mini pci-e usb 3.0.
What you'll need:
1) A mini pci-e usb 3.0 card. I've used
this one with sata power
. Swap it with the wifi card.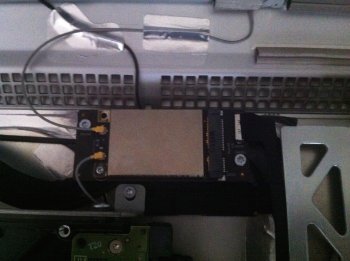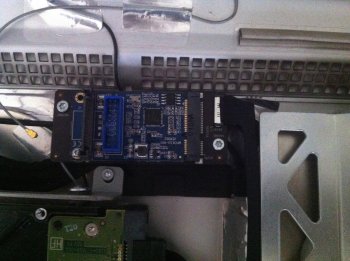 2) A
back panel expansion connector
. Closing the imac is almost impossible, because the back panel expansion connector to the mini pci-e card is very rigid and it collides with the screen panel.
You'll need this modded low profile adapter
. The height is just 7mm, but maybe a right angle adapter could work but I doubt there's just too little space in there.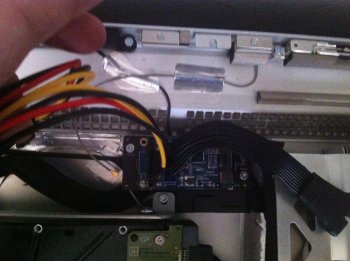 - A
sata power cable splitter
in order for the card to power and mount the drives. The sata cable, even a right angle connector, it's too high and collide just as the 20-pin did and you'll not be able to close the imac. There's no slim low profile cable for an esata that I could find, so I had to remove the plastic protecting the connector header (some scissors and a LOT of patience, it's very hard to remove without damaging the wires) and have just the barebone connector that'll be around 7-8mm height and protect it with electrical tape. Now the imac closes, still it collides and you have to push a little and put the screws in place, but now it closes and works.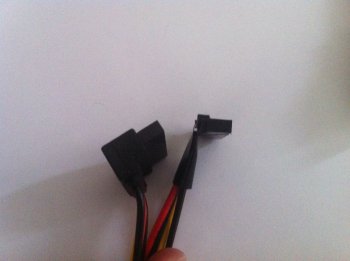 You'll have to now put all cables together and put them in place towards the bottom of the imac where the ports will need to be drilled. Space is minimum be VERY patient and cautious or you'll break something.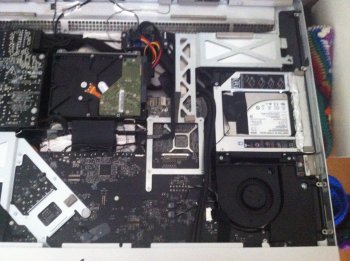 IN the end, as I've already replaced the optical drive with a ssd, I cutted the plastic that separate the optical drive. It has no purpose anymore and I could put the back panel extension cables below and it was easier to close the case. It is optional, but it's easy to do and helps a lot.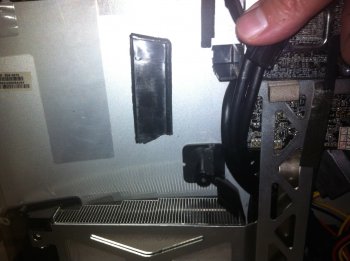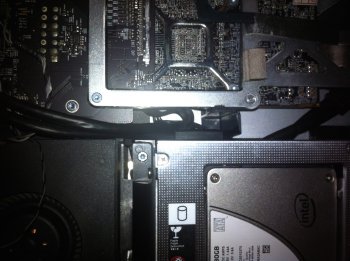 - A dremel to drill two holes at the bottom of the imac case. Be sure to know what you're doing!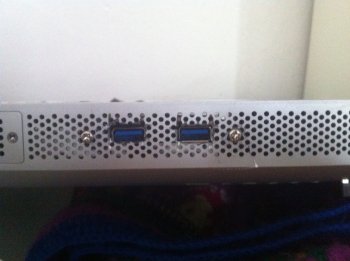 - Installing the GenericUSBXHCI.kext (or the modded AppleUSBXHCI v710.4.11), for the card to work. Drives are mounted and read/write works as fast as you expect from a usb 3 connection.
What you should expect:
- USB 3.0 at full speed.
- Random mount/dismount of usb 3.0 devices and USB power warnings. (usual with mac usb 3.0)
- Only one usb 3.0 port is working at full speed at the same time: If I plug two usb 3.0 drives, one is recognised as "Superspeed bus" (5Gb/s) while the other as "High-Speed bus" (480Mb/s). If i only plug one drive at a single port it works at 5Gb/s (I can switch port and same speed). I don't know if this is a kext limitation because in the specs it's specified it allows 2 usb 3.0 ports.
DO IT AT YOUR OWN RISK!