macrumors 6502
Original poster
Advice appreciated:
My needs
are very pedestrian: Browsing, email, word, excel, powerpoint, etc. Often have multiple tabs, and run two applications at once. But no photo editing, video production, etc. 128 Gb is enough. I'm using 70 GB now...at most. I don't see needing more.
Why I am asking.
Just realized that if one clicks on the LEFT Mini, there is the 128Gb option. Click on RIGHT side, only 256 Gb. (Pretty obvious now). I have ordered i5 w/256Gb cause thought was only SSD choice. But, an i7 w/128GB is same price. The i5 only available with 256GB SSD. However, price isn't critical..... Any order will have 16 Gb RAM. Not comfortable installing RAM myself.
My thoughts:
I can always upgrade storage with external SSD. Can't upgrade processor. Also, will an i3 be more than adequate? Concerned about future proofing as new OS and programs only increase their processor requirements. I've been unable to install various new OS and other programs (TurboTax). Is i7 way overkill?
Note: my current Mini is a 2009. My monitor likely be Dell P2415Q. And, may add a second Dell.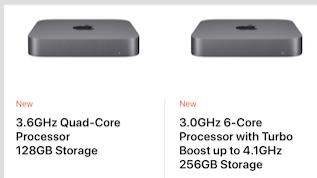 Thanks!
Last edited: