macrumors G3
Original poster
With the holiday shopping season upon us we can bet that
Amazon
will be offering aggressive sales on their line of Fire tablets. Reports are out that all models will be going on sale, with the Fire HD 10 selling for $100. ($50 off)
I know many dismiss the Fire tablets as junk to give to kids, but there's quite a bit that these things can do with just a little tweaking... maybe some here already have one and think it is limited to its intended purpose... consuming Amazon goods and services.
Here are a few things that I use mine for that might give others some ideas... and maybe others will join in to share their ideas as well.
ADD SUPPORT FOR GOOGLE PLAY and GOOGLE SERVICES.
I won't post the links here, but a simple google search will provide easy step-by-step guides to add Google Play and Services without hacking or rooting the Fire tablet. (basically tweak a built-in setting, download and install a few files, reboot)
BLUETOOTH KEYBOARD AND MOUSE SUPPORT.
Out of the box, the Fire HD 10 supports external keyboards and mice. Here's a photo of my Fire HD 10 with a Motorola keyboard w/trackpoint. Note the mouse cursor (hard to see, but in the middle of the screen). When the mouse isn't used, the cursor disappears.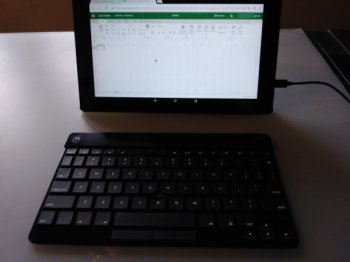 Here's a close-up. The mouse pointer is near the center of the screen. The app displayed is the web version of MS Excel. This is far more functional than the iOS and Android versions.
SCREEN CASTING/MIRRORING TO A CHROMECAST.
Once Google Play and Services are added, the Fire HD 10 can cast or mirror its display to a chromecast.
EXTENDED DISPLAY FOR PRESENTATION MODE.
When running a slideshow presentation like Google Slides, you can cast the presentation screen to the chromecast while having the presenter screen visible on the Fire HD 10 itself. The Fire also supports USB peripherals like my Targus presentation remote.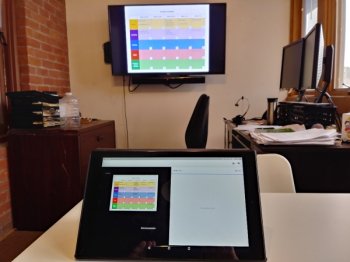 GAME EMULATORS and USB GAME CONTROLLERS.
There are quite a few game emulators that work on the Fire HD 10. And there is a variety of game controllers that work with them.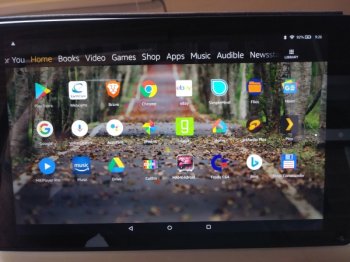 STREAMING VIDEO SERVICES and LIVE TV.
The vibrant screen of the HD 10 makes it great for watching video from any of the online streaming services as well as live TV.
If you have a Fire HD 10, what are you using it for?