The eGPU vendor, Mantiz was the first to report RX Vega compatibility in macOS High Sierra on August 9th. I finally got my RX Vega 56 today after multiple delays from
Best Buy
. It was plug-and-play in 10.13b.
The biggest news is the link speed,
PCIe 3.0 at 8 GT/s
[false alert - OpenCL OpenWave shows PCIe 1.1 speed]. Perhaps this was part of the firmware update recently. Anyone knows how this is possible on a machine that's supposed to have PCIe 2.0?
I'm currently powering the card with a pair of mini 6-pin to 8-pin PCIe power cables. No other power modifications to this system. OpenGL apps crashes similar to what the RX 480 was doing last fall. I ran some quick benchmarks and it's slightly faster than the R9 Fury.
The card was identified as R9 XXX in About This Mac. I edited the controller file in AMD1000Controller.kext to show the correct name. IMO if you can find one of these for $399, it's worth it. Otherwise wait until the end of the year for the iMac Pro to launch so that's the drivers are more optimized.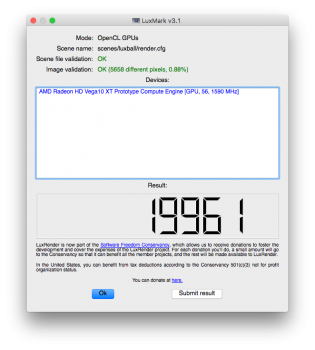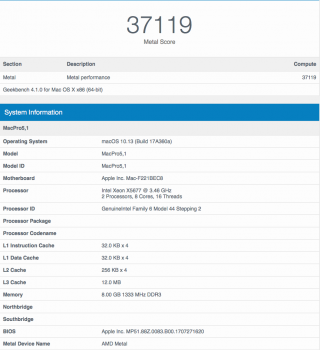 Last edited: