macrumors newbie
Original poster
Quick back story, used to be an Apple Tech about 15 years ago in a previous career, no longer in IT though, so hand me a spudger, a torx and some kapton tape and I'm still quite at home, however not 100% up to date with the intricacies of more current machines.
My parents iMac was slowing down due to being a 2.5" spinner, so offered to whack in an SSD, also upgraded the RAM while in there. All back together and I'm getting the dreaded fans spinning at full speed and the system is limiting the processor speed right down, so it appears and behaves as if the processor is maxed out (when in reality it is barely doing anything.)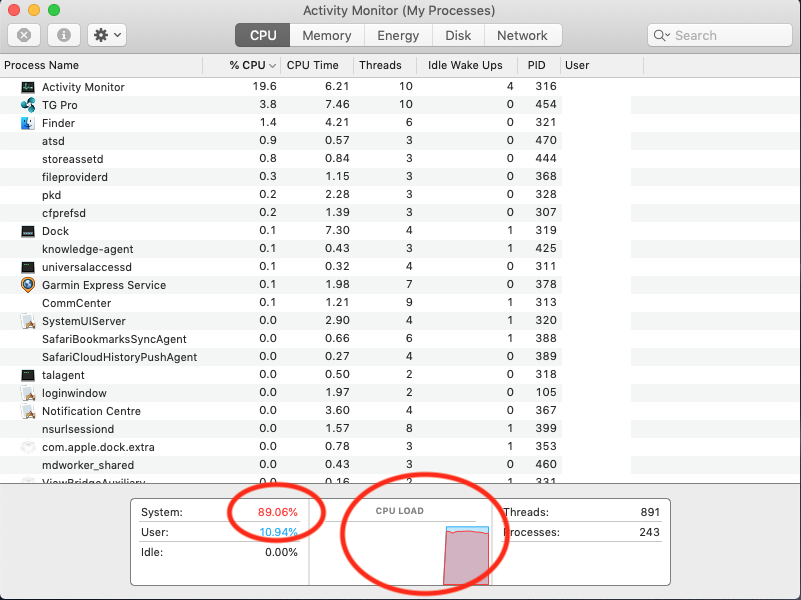 Running Apple Hardware Test, it reports back with a fault of 4SNS/1/C0000008: TA0p--124 which indicates that the ambient thermal sensor has either coincidentally failed (this is usually referring to the one on the back of the LCD panel itself) or I managed to mangle the cable somehow. Have been Googling for a couple of days and can find barely any people with 2012 iMacs getting this error, lots for other years though, where the hardware is unfortunately different.
However, if I run TG-Pro, (and this is where I start to come undone), it shows all sensors OK apart from GPU Diode having an N/A next to it. Now from what I can tell, this app should only show sensors relevant to that model machine, so this concerns me.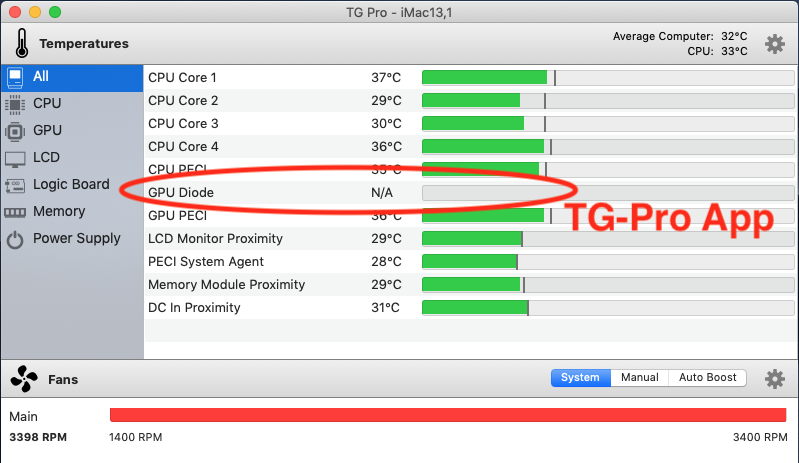 Additionally, running iStat shows no figure against the Ambient Logic Board, CPU Proximity, GPU Die, GPU Proximity, Platform Controller Hub and Power Supply Heatsink. Now in this instance, I believe all these are sensors this machine doesn't have as iStat doesn't always remove unnecessary ones from the list. However, general consensus online is that the Ambient Sensor (that Apple Hardware Test reports as faulty) is one that is attached to the back of the LCD, and iStat shows a temp reading for the LCD, guessing this may be the same sensor.

Sooo, what I'm hoping is that someone with one of these machines might also have these apps and be able to check and see if those are blank on their machines too? Mostly worried about the GPU Diode one on TG-Pro as I don't believe that should be blank.
I have pulled the machine apart again and checked every single cable is plugged in. What I am down to is that it is either the ribbon cable running from the back of the display to the motherboard, as this carries the Ambient Sensors data or the Ambient Sensor itself has failed, neither of which is too major. There is also a small interconnect board on the back of the screen that joins the sensor and the cable, and if it is that then I believe it may mean a full screen replacement. Or it may be something to do with the GPU sensor. Or a mix of both!!
Huge thanks in advance to anyone who may be able to assist!!
Last edited: