Hi Guys
I am using 2 X 3TB WD USB3 external HDD for my vaults
Had a large shoot yesterday, uploaded all the images OK,
Did a little editing,
Hooked up both drives,
Went to "update vaults"
One drive was showing disconnected, clicked on that drive and got this message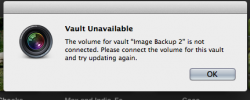 Then ejected the drive, reconnected, still no change?
Disconnected both drives by ejecting,
Disconnected all cables,
Closed down the iMac, made a coffee
and restarted the iMac
Reconnected the Drives, same drive still "not connected"?
Any ideas?
FWIW, when I access the drive through the finder, I can access all the files in there, so, one would think it is connected but not connected when in Aperture mode