There's an interesting thread in the iPhone forum, asking people to show/explain their App sorting. It inspired me to get things organised on both my iPhone & iPad, so I thought I'd see how other iPad owners arranged their Apps.
My iPad Pro App arrangements are similar to the iPhone, but the Apps slightly differ due to the needs of Apps at Home (where the iPad lives) compared to on the go (iPhone)...
I've managed to shrink things down to 2 pages.
1st page for common Widgets/Apps & the top of page 2 for Secondary Apps followed by alphabetically sorted Folders...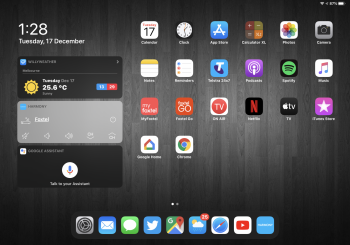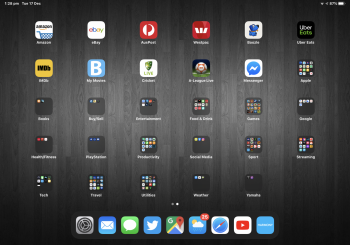 To elaborate on the category sorting...
Page 1:
Widgets - Weather, Universal Remote Control for home theatre, Google Assistant...Swipe up for Battery & Shortcuts widgets.
Top row & a half - Regularly used Apps, most of which retain their original factory arrangement.
Second half of row 2 - Podcast & Music Apps.
Third row - TV & Movies.
Fourth row - New Apps I trial & keep if I find them useful.
Dock - Most used Apps.
Page 2:
Top row - Online Shopping, Primary parcel delivery company in my country, Bank App. Food & Drink pickup & delivery Apps.
Second row - Movie reviews/UHD Blu-ray ownership database Apps. Then current sports I follow. Messenger. Followed by the alphabetically sorted Folders.
Last edited: