Contributor
Original poster
I deleted the Apple Calendar App since I am using Cal 366 and Fantastical
But, I still get this screen message and calendar events still appear on my iPhone screen.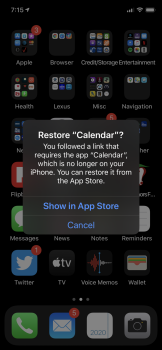 How do I stop these Calendar events from showing on my iPhone as Notifications?
EDIT:
I think I figured it out. Went into Settings/Notifications and turned off Notifications for Calendar. The icon doesn't look like the one I deleted. But, it is the only extra Calendar in Notifications. Maybe it is just a place holder for the Apple Calendar. Will see.
Last edited: