In light of the recently announced Google Photos app, I just wanted to let everyone know that Apple has long had unlimited photo storage option on iCloud in the form of Shared Streams (not photo stream or photo library, but shared streams). You can enable it under
Settings > iCloud > Photos > iCloud Photo Sharing.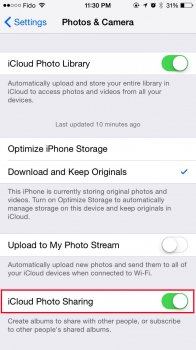 Once it's enabled, you can put up to 500,000 photos/videos, regardless of quality and size into the streams and have it permanently uploaded onto the cloud
without taking up any iCloud storage
. When you open your photos app, the tab in the middle (Shared) lets you create new shared streams, which are independent of iCloud Photo Library Beta. These streams can be created to share or just for yourself to use, and the content does not eat up any iCloud space.
Why Apple has allow this, I don't know, but it works and it's completely free. For most users, 500000 photos is impossible to fill up, so it's basically as good as unlimited. Plus, none of the data is shared with Apple, and you get to choose which photos you share with your family and friends through invitations.