macrumors newbie
Original poster
Hey, I was looking through the Apple (AU) store online and I found this: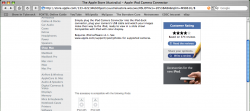 On the right side it says, "Accessories for the new iPod". I clicked the ad and it just lead me to the main page of the Apple Store.
Here's the link:
http://store.apple.com/133-622/WebObjects/australiastore.woa/wa/RSLID?mco=9E9B4CBE&nclm=ipodacced
I don't know if anyone has noticed this yet, I'd like to know what you think?