macrumors regular
Original poster
Never thought it'd be me posting this about a damaged screen, I'm usually reading stuff like this from others.
I've never scuffed an iPhone since iPhone 4 so was surprised my Apple Watch scuffed so quickly (15 days).
Anyway, here's the pic: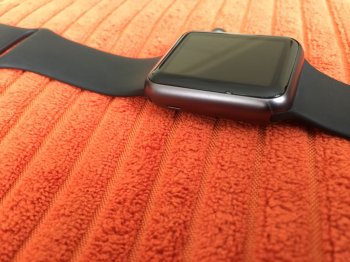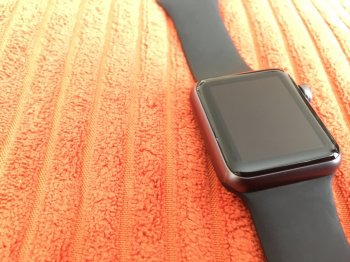 So what happened?
That's the part I'm surprised about. It wasn't anything out of the ordinary. I do recall bumping it here and there (not on concrete but on stuff like a wooden headboard or door etc) but after those bumps I've checked each time and the watch held up fine.
So I noticed the first chipping, the one on the right, yesterday. No bump on anything yesterday, just noticed it. I remember discussing it at home and agreeing I'll live with it.
So I was shocked to see today the second chipping, the one on the left (middle of the watch, left side). Again, for no apparent reason today. I don't recall smashing it anywhere and the main thing is, I've never dropped it, it's been on my wrist almost all the time. I can say I've been as careful as you probably can with your wrists without hiding your hands all the time.
For something on the wrist seeing day to day life, I would've expected stronger durability (I had a £25 watch for over a year with no such scuff). Or at least, to see stuff like this MONTHS from now by which I could just get generation 2. But within two weeks, I can only dread what it'll look like in a year's time if it makes it at all.
Options:
1. Sell it on
eBay
and buy the stainless steel sapphire version, but some say that also chips?
2. Repair it via Apple, though no idea how much it'll cost or if it's worth it.
Either way, the Apple Watch experience has suddenly gone from high to low.
Anyone else chipped their's? What did you guys do to resolve it? Anyone decided to live with a scuffed watch?
-----------------
UPDATE 2
---
So I've got some great news to report: my Apple Watch has gone for repairs/replacement free of charge!
It didn't start all well though.
Initially, before the watch was even damaged, I had already booked a Genius Bar appointment for that week for my iPhone home screen. When I called Apple, they told me I could try talking to the Genius Bar then about my Apple Watch as well and if they weren't able to help then, I could always reschedule.
MY FIRST GENIUS VISIT
So at the iPhone genius appointment at Regent St, London, the genius dealt well with the iPhone issue and initially said he wasn't really a watch specialist. If he'd stopped there it would've been better because he then still went on to examine my watch and tell me more or less that I was at fault. When I explained my issue, that I haven't done anything out of the norm and normal use shouldn't be causing the screen to chip off so quickly within a couple of weeks and I don't know what more I can do to make it safer while still keeping it a 'sport' watch, guess what he told me? He told me to get a watch case! I was surprised but he said loads of people with expensive Rolex watches apparently wear cases on their Rolex watches. Really? Anyway, the awkward thing was that Apple don't even sell Watch cases in their stores so this can't be Apple's position, unlike with the iPhone.
MY SECOND GENIUS VISIT
I had to return to the Genius Bar a couple of days later for the same iPhone issue (to get it repaired in store). This time, the Apple genius was excellent. She sparked conversation about my watch and I decided to tell her about the damage. She immediately told me to book a watch appointment specifically. Interestingly, she also said a few of her *colleagues* had issues with scratches and stuff on their watches and got them replaced. My hopes lifted.
So I went to a MacBook in the store to book a genius appointment online specifically for the watc (I was told by another employee there were no available walk in appointments). An employee wearing a red baseball cap came up to me and asked if I needed help. This guy was a hero. I told him I was booking a genius appointment online. He asked what my issue was and I showed him my watch. He didn't even have a watch but he immediately took it really seriously. Told me to wait for a few minutes while he spoke to the manager to see if they could deal with it there and then. And amazingly, he came back and fit in an appointment for me within the next hour with a watch specialist. He did remark that appointments were tight for iOS and Mac but not so much for watch issues.
When I was seen by the watch specialist, he took it off me behind scenes and came back saying they'd replace it for free. He said he could see it had some impact but agreed with me it shouldn't be happening like this normally and that the watch sport version was made for sport. He also agreed that he's not into the case/screen protector idea. He confirmed that the ion-x screen was made to break less but might scratch easier whereas the sapphire was made to scratch less but might shatter/break easier. Important.
So anyway, it's a two week wait. Really happy it turned out all well in the end.
TLDR & things I learned:
- Always discuss your issues with the specialists for your particular device.
- Not all geniuses are the same. Some are definitely more helpful than others.
- Apple can be reasonable about damage and repairs where there's room for doubt I think. If they had charged me £149 (or £189?) for a 15 day old device that cost £300 in the first place, they would've caused some significant damage to their reputation, at least for me.
- Once you don't have the Apple Watch, you miss the stuff it can do.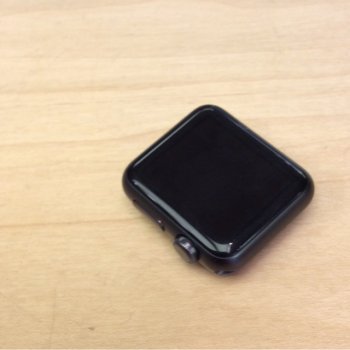 ---
UPDATE 3
--
Things took a stressful turn.
I got an email from Apple repairs yesterday telling me I needed to pay an atrocious £186 to repair the watch! I wasn't able to capture the screenshot because the page got updated, but here's the tab with the price.
View attachment 556321
I was not happy at all. Here's the repair authorisation from the Apple Store telling me I didn't have to pay anything:
View attachment 556322
So I arranged a call with Apple. The support lady told me that the engineers concluded it was accidental damage and therefore would costs me. I felt seriously let down. I explained that the store told me I wouldn't have to pay anything because this sort of damage wasn't supposed to happen.
She agreed that there must've been miscommunication about the pricing and the Store should've told me that I may have to pay. Because of this miscommunication, she was willing to make an exception and let this off. So in the end, I'm relieved to know that it won't cost me 2/3 of the cost of the watch itself and they should repair it for free.
Then I asked her, if this was really about accidental damage, as a school teacher with most of the time in the classroom, what am I doing that's so active it's damaging a *sports watch*? A sports watch that's being advertised as good enough for ice skating and all sorts of wild sports. I asked the genius in the store the same thing and he simply said it shouldn't be getting damaged so easily. The lady also wasn't able to give a clear answer, although she was always polite and as helpful as she could be.
She mentioned that I should just try and be careful of hitting desk corners maybe, etc. I had to ask her, should an Apple Watch Sport really be cracking from hitting desk corners? When cheaper watches take all sorts of day to day beatings? She also suggested a screen protector if need be, but did acknowledge Apple doesn't even sell those or cases in their own stores.
In the end, she did her best to alleviate my stress by removing the price but left the crucial questions about watch long-term protection unanswered, through no fault of her own. Regardless, I'm happy with her support, she did her best to help to be honest, as Apple Support always do.
Last edited: