I just received the OEM Tag Heuer band from Clockworksynergy. But as you can see, it really doesn't have the Tag brand mark, so I'm not sure if we could call it a true OEM, but their website says so.
I love the quality of the leather. However, the deployant clamp (not a buckle clamp with holes) mechanism works in a way that it squeezes the leather to keep it from sliding off. I think this would cause the leather to break in the long term. Also, try to clamp it correctly at once, since it will leave a residual mark where you've previously clamped it.
It also have a "quick-release" slider pins which you can easily remove the strap without having to remove the AW adapter. I'm not too sure about the durability of this pin. If you decide to buy more than one Clockworksynergy bands, this will be great. But just be sure to check whether you've attached the pin correctly as it doesn't make notable "click" sound. See pic #3
Another annoying thing about this strap is that if you have a narrow wrist, you'll have an extensive amount of extra strap that you may need to "tuck-in" when you put it on. I have a very thin wrist for a guy and had excess strap as you can see in the pic #4 below.
However, in overall, the looks and comfort seems to be good. I like the color, although the picture at its website looked darker. The PVD clasp mechanism and the AW adapter seems to be good quality. Only time will tell if the PVD black color will withstand wears.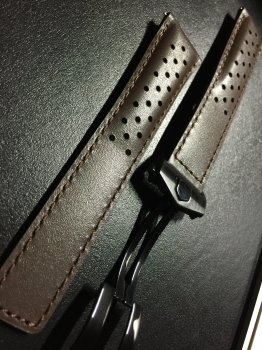 The strap has a Tag Heuer "pentagon" but not actual logo.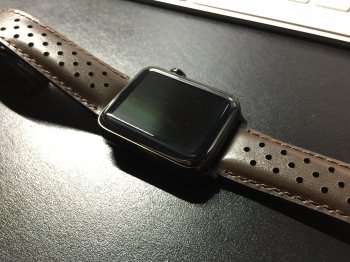 The strap on the SS SB Apple Watch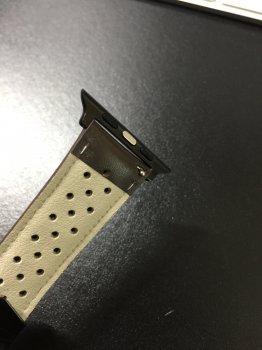 Quick Release pin (the silver thing at the top of the band is the latch)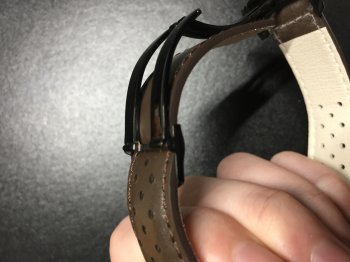 The deployant Clamp squeezes onto the leather worries me a bit.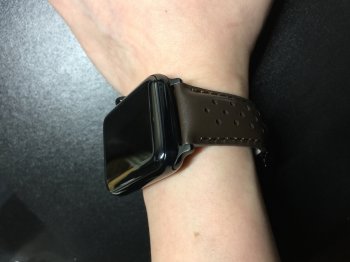 On my wrist.
The clamp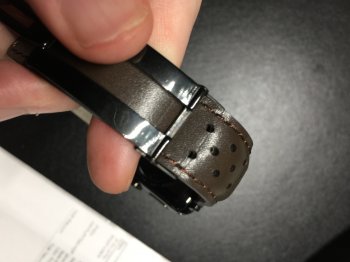 A residual mark left after changing the clamp location.