macrumors 68030
Original poster
so I have a G3 beige mini-tower in pretty nice shape its a Rev B unit
now as many people know I love to tinker with my Computers and I knew that you could in theory overclock the bus on a G3 beige from 66.8Mhz to 83.3Mhz, so I gave this ago on my G3 beige a while ago
sadly it was not stable at all and would barely POST, Game over, back to the stock 66.8Mhz right?
Nope, Just replace the Main "North bridge" for a faster one, simples
heres what I did to get my 83.3Mhz bus speed G3 beige:
I took a spare Rev A G3 BW board removed and reballed the 100Mhz XPC106 off of it
then I took the G3 beige board, removed the 66Mhz rated XPC106, cleaned up the pads on the Logicboard and soldered on the "new" 100Mhz rated XPC106
and it worked! the G3 beige booted right up and I was able to set the bus speed to 83.3Mhz without any stability issues (of course im using PC100/133 DIMMs) (I ran a few GeekBench loops and over 120 passes in Gauge Pros memory tester without issue)
I do wonder if theres a Jumper config that would let me set the bus speed to 100Mhz, a 100Mhz bus speed G3 beige would be pretty epic.
the XPC/MPC106 also known as Grackle, is the Memory/PCI/Bus controller/"North Bridge" in: G3 beiges, G3 BWs, G4 Yikes!s, WS/PDQs, Lombards and tray loading iMac G3s. in theory the same swap I did here could be done to any of those machines alloying them to run a 83.3Mhz bus nice and stable
of course I have some pictures
but "sadly" with my new equipment, the BGA soldering was going so well i forgot to stop and take some pictures during the swap...
so no bare pads shot im afraid. (I got a T8280 Hot plate which combined with the TS100 soldering iron makes BGA soldering such big boards much easier )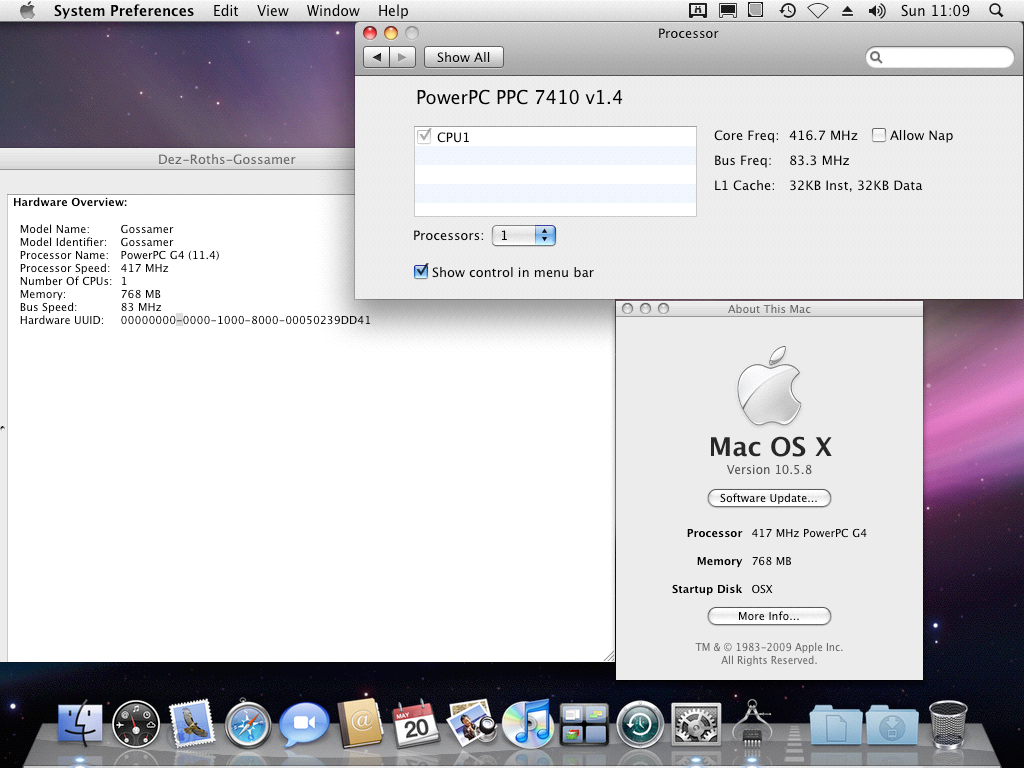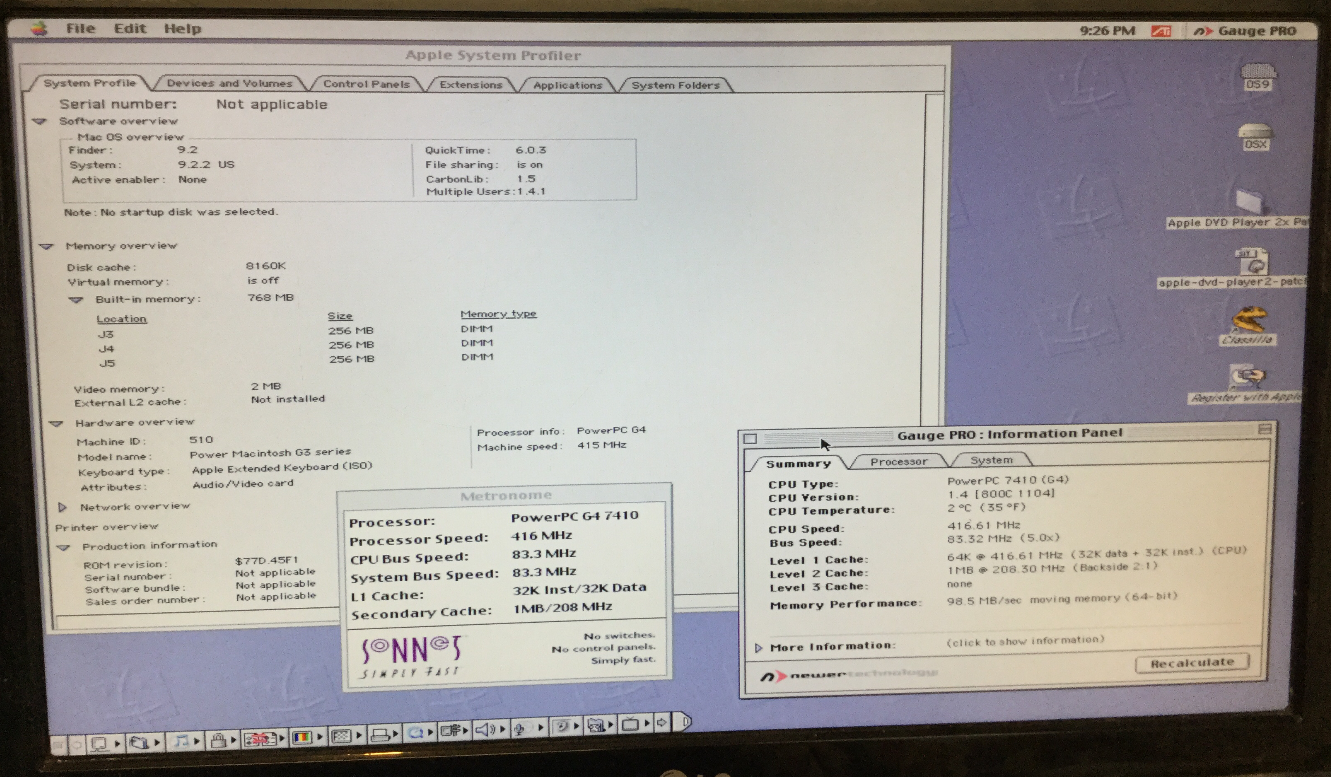 and finally the money shot of the 100Mhz rated "North bridge" Grackle chip on the G3 beige logic-board
where it says ARX100, it says ARX66 and ARX83 on 66/83Mhz rated parts, incase your wondering how to tell the speed of your XPC106 chip
the chip I fitted/pictured was made 4th week 1999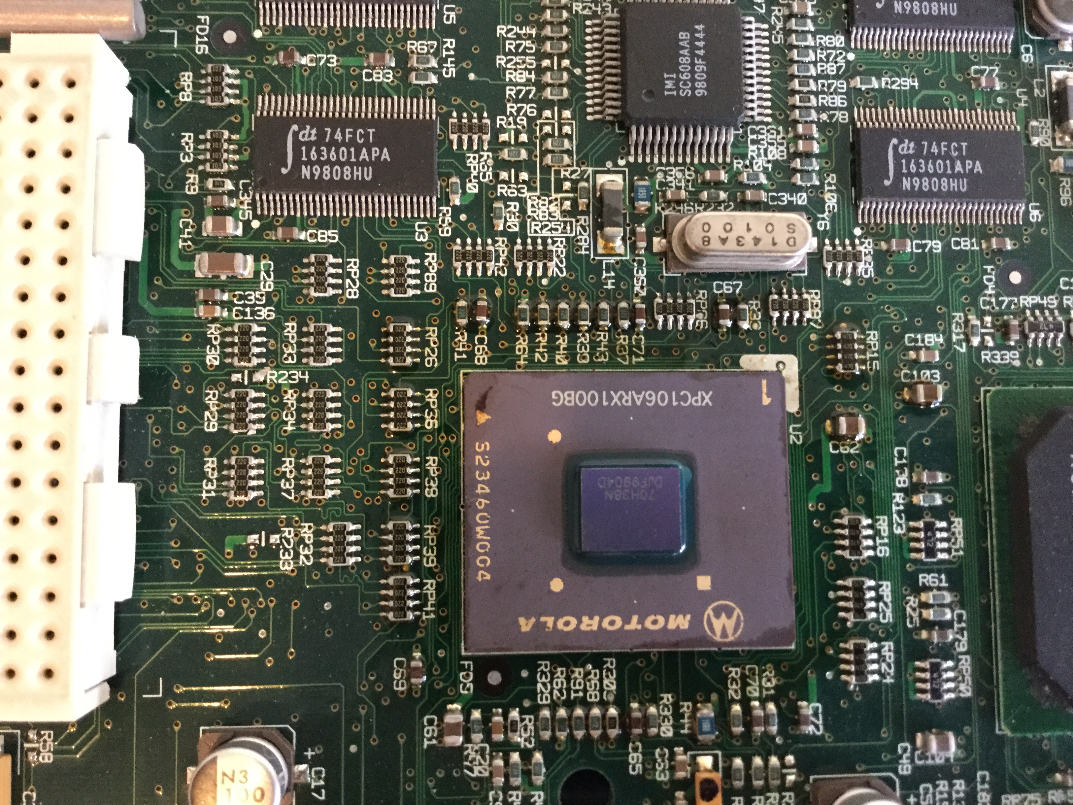 Last edited: