macrumors 65816
Original poster
Howdy All,
I have a slightly cheeky (enthusiastic newb) request of you all if you don't mind. I'd really love some (brutally) honest feedback and suggestions for the following shots. Particularly tips on composition, points of focus, tweaks in Photoshop/Lightroom.
The Otter shot I like, even if it's a bit gruesome for some. Just a pity I think that the background is the same colour as the subject, in parts of the shot.
The dove shot I'm quite pleased with the proportions of the shot and the intensity of colour there, but please let me know your thoughts on how it can be improved. I am a total newb after all.
I listened to Doylems comment about wanting to take upright subjects and make them widescreen, then tried it with the shot of the meerkat, and I actually like it more than some of the other meerkat shots I took that day, which are the predictable closeup shot. There's a lot more interest there.
The Blue & Gold Macaw in flight is my first ever moving subject shot. Well, moving at speed, anyway. I know it's not great or anything, but would love some pointers on what to do to achieve that sort of shot properly and competently.
I had difficulty with the shot of the Orangutan, where she is back-lit quite intensively by the sun, and am unsure how to make that work for me. I tried exposure bracketing 3 shots with a difference of 1 between them, and this was the best of the 3.
Thanks in advance for any help you can offer me.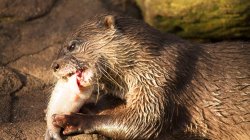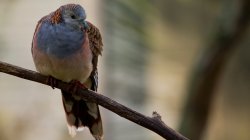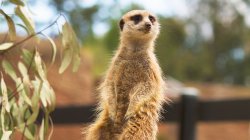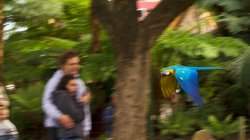 Last edited: