I have a Macbook Air (Mid 2015) with 128 SSD.
I created a USB bootable drive (Using 3 different USBs) and loaded High Sierra and Mojave (Both downloaded from App Store and elsewhere) using
Terminal
and
Install Disk Creator X
and
Diskdrill.
Yea, I tried different combinations using other macs and VM machine in Windows.
sudo /Applications/Install\ macOS\ Mojave.app/Contents/Resources/createinstallmedia --volume /Volumes/MacInstaller/ --nointeraction &&say Done
I was running High Sierra just fine
for a year and I tried to move to Mojave by doing a fresh installation
but all the installation now seemed to be stuck below (Both Mojave and High Sierra).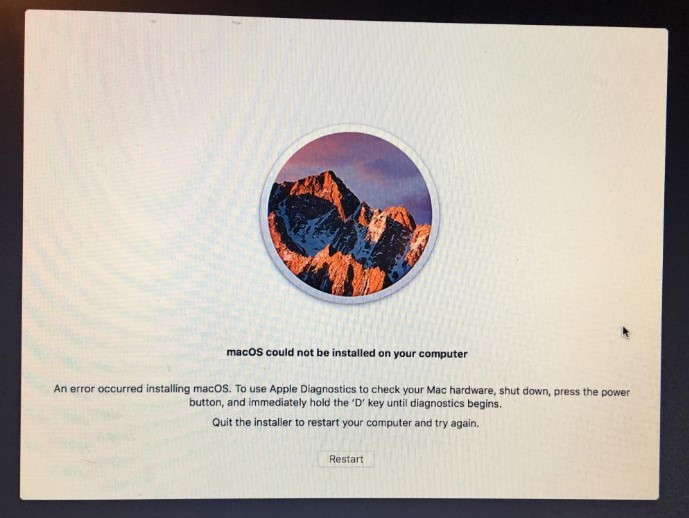 Error LOG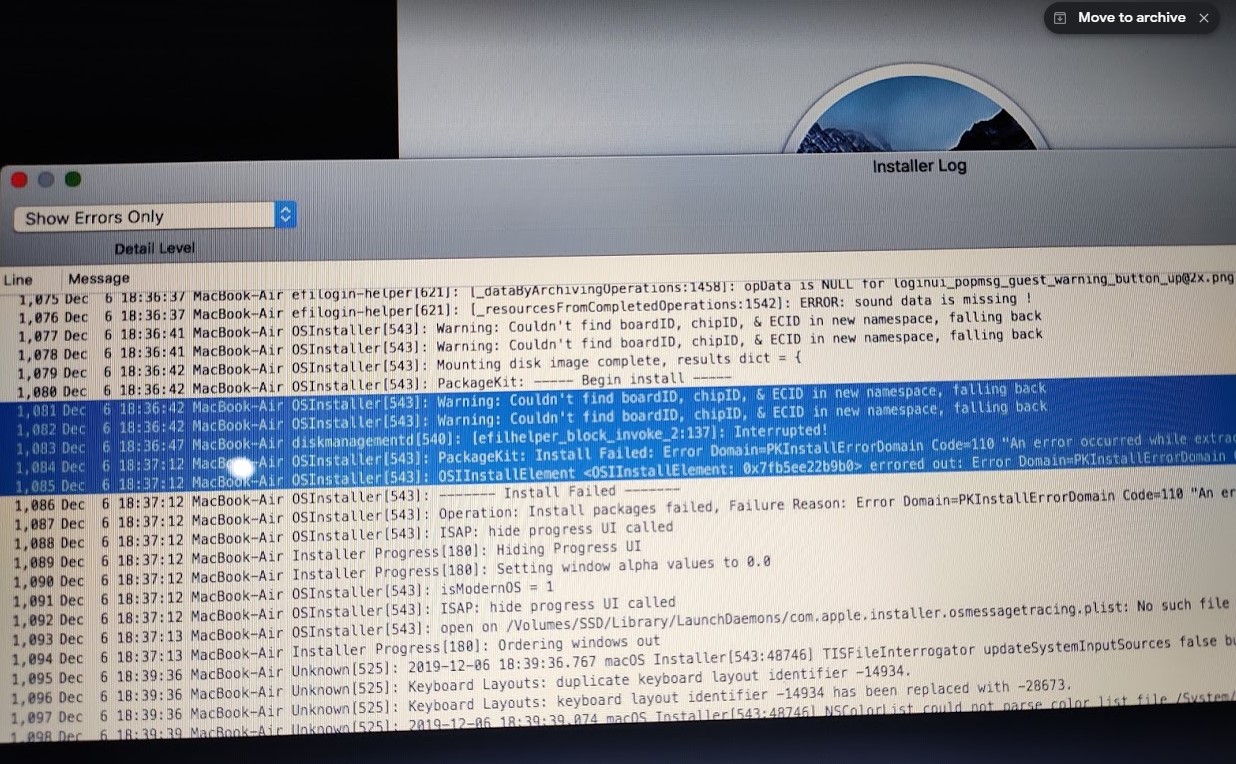 I tried different Pendrives with different mac installation
downloaded from different sources
(both AppStore and elsewhere).
Other things I have tried
NVRAM reset
SMC reset
Tried Installing through recovery (Internet)
Ran first aid
Run diagnostic (Pressing D) || (Everything is fine)
I ran
diskutil list
while
inserting my flash drive
and it gave me this.
/dev/disk0 (internal, physical):
#: TYPE NAME SIZE IDENTIFIER
0: GUID_partition_scheme *121.3 GB disk0
1: EFI EFI 209.7 MB disk0s1
2: Apple_APFS Container disk21 121.1 GB disk0s2

/dev/disk1 (external, physical):
#: TYPE NAME SIZE IDENTIFIER
0: FDisk_partition_scheme *30.8 GB disk1
1: Apple_HFS Install macOS High S... 30.8 GB disk1s1

/dev/disk2 (disk image):
#: TYPE NAME SIZE IDENTIFIER
0: GUID_partition_scheme +2.1 GB disk2
1: Apple_HFS OS X Base System 2.0 GB disk2s1

/dev/disk3 (disk image):
#: TYPE NAME SIZE IDENTIFIER
0: untitled +5.2 MB disk3

/dev/disk4 (disk image):
#: TYPE NAME SIZE IDENTIFIER
0: untitled +524.3 KB disk4

/dev/disk5 (disk image):
#: TYPE NAME SIZE IDENTIFIER
0: untitled +524.3 KB disk5

/dev/disk6 (disk image):
#: TYPE NAME SIZE IDENTIFIER
0: untitled +524.3 KB disk6

/dev/disk7 (disk image):
#: TYPE NAME SIZE IDENTIFIER
0: untitled +2.1 MB disk7

/dev/disk8 (disk image):
#: TYPE NAME SIZE IDENTIFIER
0: untitled +524.3 KB disk8

/dev/disk9 (disk image):
#: TYPE NAME SIZE IDENTIFIER
0: untitled +524.3 KB disk9

/dev/disk10 (disk image):
#: TYPE NAME SIZE IDENTIFIER
0: untitled +12.6 MB disk10

/dev/disk11 (disk image):
#: TYPE NAME SIZE IDENTIFIER
0: untitled +4.2 MB disk11

/dev/disk12 (disk image):
#: TYPE NAME SIZE IDENTIFIER
0: untitled +1.0 MB disk12

/dev/disk13 (disk image):
#: TYPE NAME SIZE IDENTIFIER
0: untitled +2.1 MB disk13

/dev/disk14 (disk image):
#: TYPE NAME SIZE IDENTIFIER
0: untitled +524.3 KB disk14

/dev/disk15 (disk image):
#: TYPE NAME SIZE IDENTIFIER
0: untitled +524.3 KB disk15

/dev/disk16 (disk image):
#: TYPE NAME SIZE IDENTIFIER
0: untitled +1.0 MB disk16

/dev/disk17 (disk image):
#: TYPE NAME SIZE IDENTIFIER
0: untitled +6.3 MB disk17

/dev/disk18 (disk image):
#: TYPE NAME SIZE IDENTIFIER
0: untitled +6.3 MB disk18

/dev/disk19 (disk image):
#: TYPE NAME SIZE IDENTIFIER
0: untitled +524.3 KB disk19

/dev/disk20 (disk image):
#: TYPE NAME SIZE IDENTIFIER
0: untitled +2.1 MB disk20

/dev/disk21 (synthesized):
#: TYPE NAME SIZE IDENTIFIER
0: APFS Container Scheme - +121.1 GB disk21
Physical Store disk0s2
1: APFS Volume SSD 5.6 GB disk21s1
2: APFS Volume Preboot 17.7 MB disk21s2
3: APFS Volume Recovery 519.1 MB disk21s3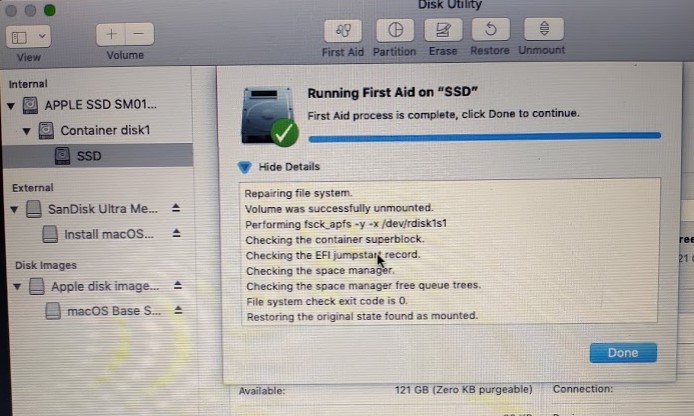 Weird things I have experienced multiple times before
Black Screen (aka Blue Screen) while browsing Chrome or Editing Videos
I have never been able to install OS updates from the AppStore. It always gives error while installing and needs clean installation (Which I have done successfully before).
DMG suddenly got corrupted
Please Help me bring back my Macbook Air
😭😭😭😭😭😭😭😭
Last edited: