macrumors regular
Original poster
Hello Everyone Im new here. A couple weeks ago I encrypted an external hard drive from the mac desktop by right clicking to encrypt. I put a password and then decided to see what happened when I press that little key symbol beside the password (Im Curious George sometimes)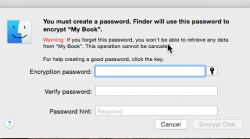 Not realizing that it changed my entire password, I press encrypt....
My whole life is on this drive. Every picture Ive ever taken, every video Ive ever shot, all gone. I attempt the password multiple times and begin to cry.
I couldn't believe what I just did.
If there is anyone out there who can help me please. I would extremely appreciate it. Please.