macrumors 604
Original poster
Important update for anyone considering this case. Casemate has emailed me saying there's a problem with the magnets causing the cover to put the iPad to sleep when its folded all the way back and flat. Avoid for now until they update this problem. They are offering full exchanges or refunds to those who want it.
After test driving it with the new iPad for a few hours, I thought I'd share my opinion of it and some pics.
Here's the official website:
http://www.case-mate.com/The-new-iPad-Cases-iPad-3/Case-Mate-The-new-iPad-Textured-Tuxedo-Case.asp
Here's a good video review of the Tuxedo case for the iPad 2 to give you an idea of it in motion:
http://www.youtube.com/watch?v=heVqCXxeBZE
And finally, this coupon code will knock off 20%: CM10-AK20
My thoughts:

-I'm really impressed with it. It's thin and light. The "Magic Tape" (very Apple-ish of them to call it that) adhesive is very secure and simple to use. I've taken my iPad off once after attaching it, so it's definitely detachable with enough pull. And as promised by the website, it doesn't leave any sticky residue or marks on the back of the iPad. Re-stuck it back on no problem. There's a pic of me holding the case up by it's sleeve and letting the iPad hang; the adhesive is very strong. I can't imagine any instances where it'd "slide" or "tear" off.
-The magnets and links all work as they're supposed to (waking/sleeping, it's all there), and the "open-ness" of the edges gives full access to all the ports and buttons. I appreciate this especially for the speaker; it doesn't block sound at all. All the positions stand and hold up well.
-The best thing, though, has to be the fact that the iPad can just exist. There are no visible holsters or clips or clasps, which gives it a really clean and sleek look. That's what drew me to this case in the first place.
-My only concern is that this is obviously a very minimalistic design, so don't expect it to offer too much protection against big drops and whatnot. I also wish there was a "back magnet" when the flap is fully opened all the way, because sometimes when just holding it up, the flap hangs in the back (much like the Apple Smart Covers).
Well, check out the pics, and if anyone has questions, fire away.
I love how the iPad just exists without holsters or clasps: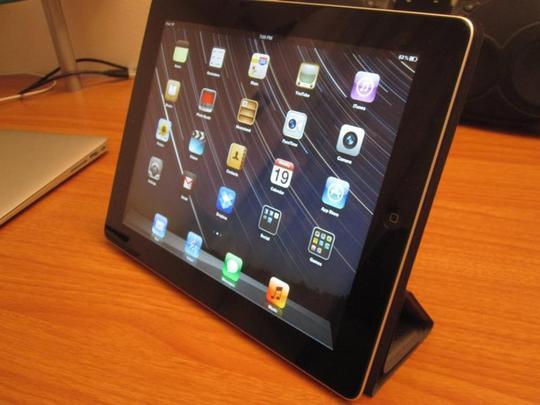 Held it very confidently while trying to take the photo:

Access to all ports, buttons. Doesn't obstruct speakers at all:

TL;DR

-Lightweight and thin
-Comfortable in almost every position
-"Magic Tape" very secure and reliable
-Love that the iPad just "exists" without holsters/clips
-Very minimalistic, so don't expect protection from big drops
Would recommend if you're looking for minimalistic, light and sleek design.
Last edited: