Hello,
I own the iMac (late 2012 - a thin model) on which my internal drive leaves. I still have OS installed on it, but I do not use it. As a temporary solution I had an external HDD connected via the usb from which I booted and I had no problem (except that it was slow).
As a replacement I bought the following:
- SSD Samsung 850 EVO 250GB
- RAIDSONIC ICY BOX IB-254U3 External Box
The SSD is therefore connected via USB and I have an OS installed on it and it boots me at startup. In the future, I'm planning to insert SSD into a mac, but I need to do it in a service.
Problem Description:
Occasionally (about once every 1-2 weeks) it happens that when the Mac is turned on, the OS boots from an internal crashing HDD. Also, sometimes when I wake it up from sleep (OS from SSD) it will stay stuck, I have to make a hard restart and then system automatically boot from an internal crashing HDD.
But the main problem is that SSD looks like it does not have any created OS and data partitions. Please see attachment - print screen from the Disk Utility (apple application), where it is seen that there is a partiiton without title and without data. I had a partition with a name and some data there. If I want to boot again from SSD, I have to install the OS again.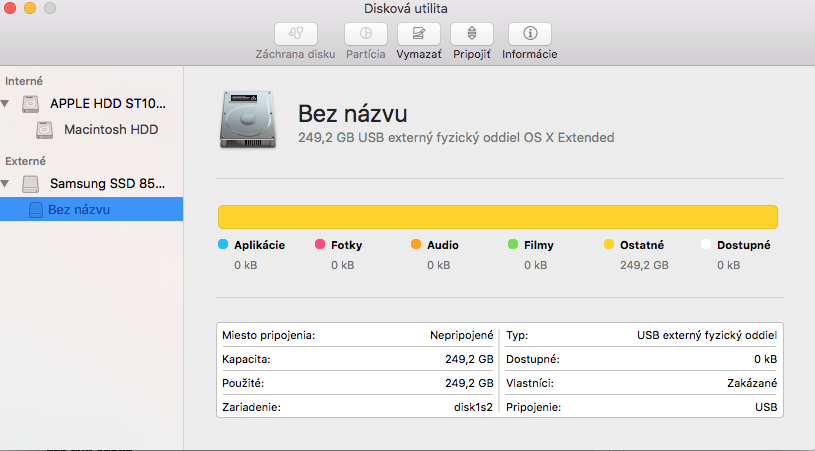 Firstly I thought that I have bad SSD or an external box. I reclaim both of that and they give me new pieso from both. But now it happens again. So the SSD and the external box will probably be OK.
Then I thought it could cause TRIM on SSD. But I found it to be quite different and I use TRIM ENABLER.
It is possible that the internal HDD is causing the problem. I can temporarily format it without OS (I have not tried it yet). However, when I used to boot an external HDD, there was no problem. Only when I use the SSD in an external speaker.
Please write me your opinion what I make to do? Thank you.