macrumors member
Original poster
Hi everyone!
Quite a sad story :
Two weeks ago I purchased a brand new Retina MacBook Pro MJLT2, unboxed it, activated and started using it without ever lfting it up from the table. However today I inspected it closely and found that there are three dents on the bottom casing..
They are placed exactly where the power supply corners are in the Apple packaging.
Called the shop where I bought it and they answered that it's my fault I didn't examine the outer shell before activating and using the laptop.
Called the BCCS service which is the official Apple service provider here in Latvia, sadly they referred me back to the seller. They also said that I could lose the warranty because of these dents, but in no way it's my fault.
What are my options? What do you suggest?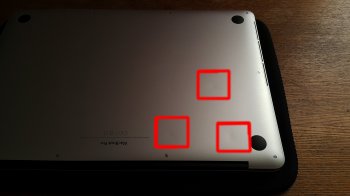 Last edited: